Autonomous Delivery Robot: SIFROBOT-6.24
Display: 7-inch IPS screen
Camera: 5 million pixels
Battery: 18650 battery pack 37V 10.4Ah
Adapter: 42V 3A
Battery life: 6H
Operating system: Android5.1
CPU:  Intel I5
Android motherboard: RK3128
WIFI: AP6255 dual frequency 2.4G+5G
4G router: optional
Weight: 43.6KG
Autonomous Delivery Robot:

SIFROBOT-6.24
Autonomous Delivery Robot: SIFROBOT-6.24 has a centimeter-level precision navigation, global unique remote deployment technology, multi machine coordination capabilities, automatic obstacle avoidance, detachable tray and other functions, which can automatically navigate to a specified location indoors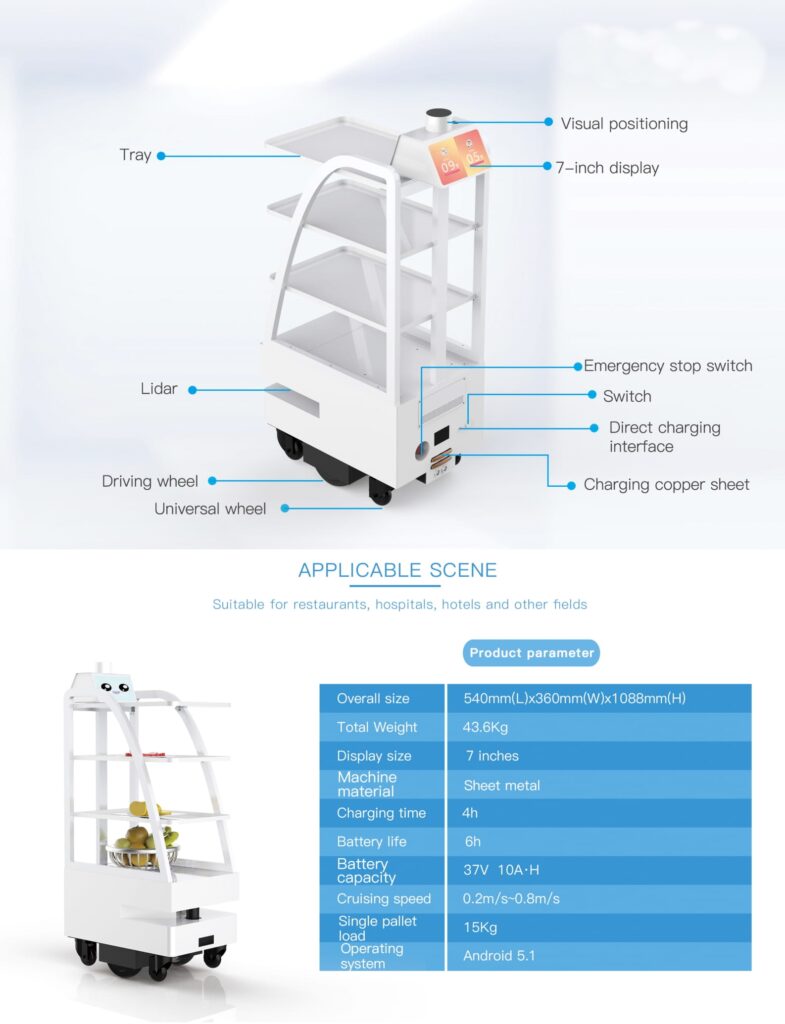 Autonomous Delivery Robot: SIFROBOT-6.24 Structure:
Autonomous Delivery Robot: SIFROBOT-6.24 Main Features:
Smart obstacle avoidance:
Thanks to the Laser SLAM and V-SLAM fusion, SIFROBOT-6.24 has a fully automatic indoor autonomous navigation, intelligent obstacle avoidance in 0.5 seconds, stable and safe operation.
Remote deployment and debugging:
Convenient remote deployment capability. Remotely builds indoor maps, visualizes virtual wall settings.
Strong battery life 6 hours:
  Long battery life, automatic return to charger when the battery is low, it will automatically return to the charging pile for charging.
Lightweight and solid design:
60 kg large carrying capacity.
Indoor Delivery Robot: SIFROBOT-6.24 Technical Specifications:
Display:
7-inch IPS screen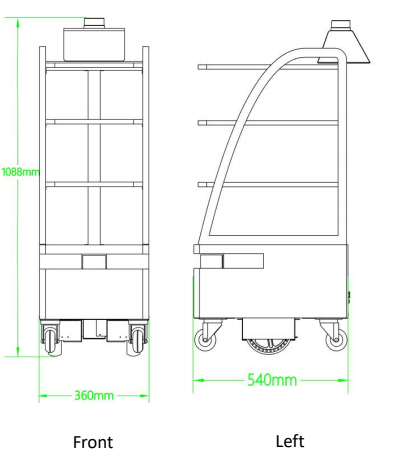 Camera:
5 million pixels
Battery:
18650 battery pack 37V 10.4Ah
Adapter:
42V 3A
Battery life:
6H
Operating system:
Android5.1
CPU:
 Intel I5
Android motherboard:
RK3128
WIFI:
AP6255 dual frequency 2.4G+5G
4G router:
optional
Speaker:
4R3W
Length
: 540MM
Width
: 360MM
Height
: 1088MM
Weight
: 43.6KG

Autonomous Delivery Robot: SIFROBOT-6.24
12-Month Warranty
30 × We plant for you thirty Trees 






























  × 30 Trees planted for one purchased item 
One Tree Planted is on a mission to reforest our planet and provide education, awareness and engagement on the importance of trees in our ecosystem. It also has a social impact encouraging and giving incentive to low income people to plant Trees in their Area.
Reducing carbon footprint : A mature tree absorbs an average of 48 lbs of CO2 per year.
We give you the chance to participate and be part of this noble project. We plant Trees for you for each product you purchase from SIFSOF.
Let's re-Green our Earth together ????  



 …