UVC Multifunctional Disinfection Robot

SIFROBOT-6.51
Multifunctional Disinfection Robot SIFROBOT-6.51 intelligent atomizing robot can super dry atomizing liquid, and disperse the atomized droplets to the required area through high-speed air flow. Meanwhile, it is equipped with UVC lamp.
The Multifunctional Disinfection Robot SIFROBOT-7.5 can reach the working area by autonomous navigation, obstacle avoidance and moving, and work around the area target 360 degrees without dead angle. At the same time, it supports iPad remote control, which can quickly and intensively work in regional places (fog making and purple light irradiation).
Through the thermal imaging temperature measurement principle, the robot can detect group body temperature in real time, and lock high-risk patients, voice alarm, manual remote monitoring, temperature measurement accuracy ±0.3°C.
Specifications: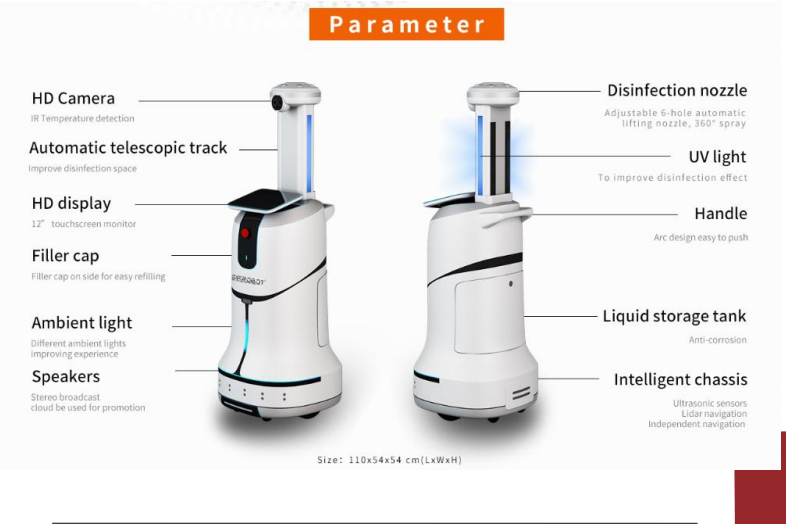 Certification: 
CE.

UVC Multifunctional Disinfection Robot SIFROBOT-6.51
User Manual.
12 months warranty.
30 × We plant for you thirty Trees 































 
× 30 Trees planted for one purchased item 
One Tree Planted is on a mission to reforest our planet and provide education, awareness and engagement on the importance of trees in our ecosystem. It also has a social impact encouraging and giving incentive to low income people to plant Trees in their Area.
Reducing carbon footprint : A mature tree absorbs an average of 48 lbs of CO2 per year.
We give you the chance to participate and be part of this noble project. We plant Trees for you for each product you purchase from SIFSOF.
Let's re-Green our Earth together ????  



 …