5 x SIFTHERMO-2.21B: Bluetooth Ear and Forehead Infrared Thermometer
5 x SIFTHERMO-2.21B: Bluetooth Ear and Forehead Infrared Thermometer
Measuring Method : NIR (Near Infrared) method.

Measuring Range : 34°C ~ 42°C (93.2°F ~ 107.6°F).
Measure Time : 1 Second.
Display: LCD
Accuracy : ±0.2°C(±0.4°F).
Battery : Replaceable for two 1.5V triple AAA batteries
Certificates:  FDA, CE, ISO.
For quantity discounts Please call : +1-323 988 5889.
5 x SIFTHERMO-2.21B:

Bluetooth Ear and Forehead Infrared Thermometer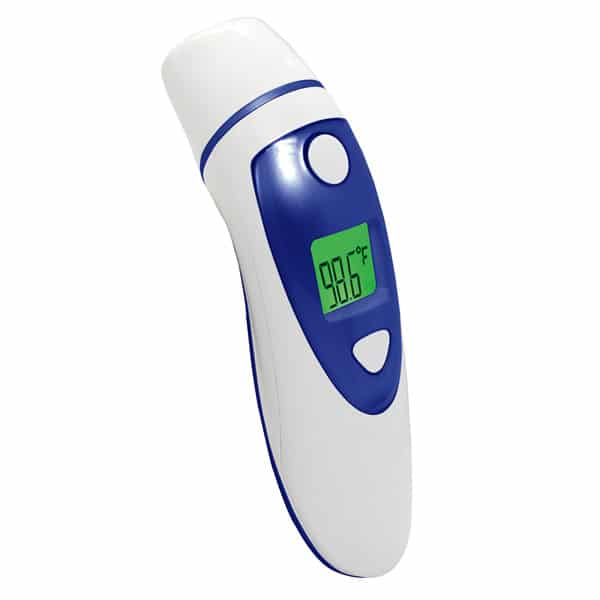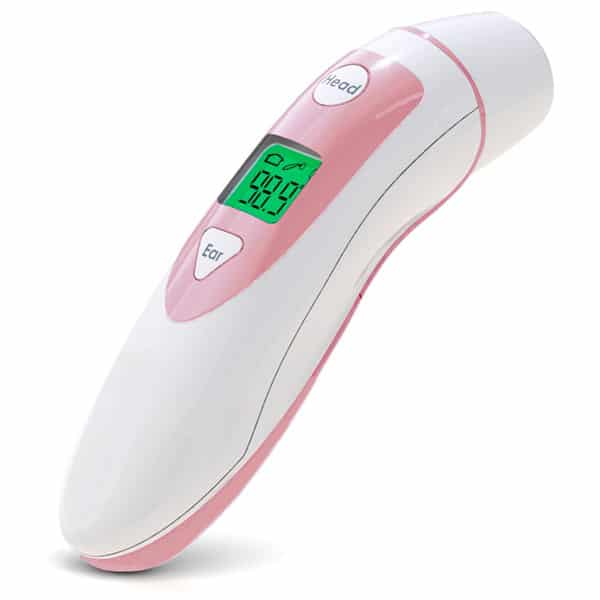 Features of the SIFTHERMO-2.21B:
1. Temperature units 

 °F / °C Adjustable
2. Measurement range
 Forehead temperature mode: 32.0°C-42.2°C / 89.6 F – 107.9 F. Ear temperature mode: 0.0°C-100.0°C /32.0F – 212.0 F
3. Precision
 ±0.4 F /  ±0.2°C
4. Display resolution
 0.1°F /  0.1°C
5. Latency Time
 1 second
6. Automatic shutdown function
 10s±1s
7. Low-voltage display function
 The product shall display low-voltage signal if the voltage is below 2.61V±0.15V.
8. Memory function
 Memorizes 20 groups of measured temperature.
9. Current consumption
 Istand-by<2μA; Iworking<0.5mA; IBuzzer on<2mA; Ibanklight<15mA
10. LED backlit specifications
 Red≥1.2cd/m2 Green≥2.0cd/m2
11. Operational conditions
 ASTM 10°C-40°C (50°F-104°F)/15-95%RH
12. Type of measuring
 Applicable for forehead temperature and ear temperature
13. Battery
 Changeable for two 1.5V triple AAA batteries
14. Battery life
 More than 1000 measurements
15. Accuracy for clinical test
 The maximum allowable error for clinical test is specified in the formula below:
 ≤ 0.3°C/0.6°F (for 95%) Among which: T1 and T2 represent temperature value for thermometer under test respectively, Tref represents the constant reference temperature
Package Content:
5 Units.
Certifications 
FDA.
CE.
ISO.
FCC.

5 x SIFTHERMO-2.21B: Bluetooth Ear and Forehead Infrared Thermometer by SIFSOF
User Manual.
12-Month Warranty.