Portable Fetal Doppler Fetus heart rate Detector : SIFETAL-2.2
Portable Fetal Doppler Fetus heart rate Detector : SIFETAL-2.2
Display: LCD Screen
Measuring Modes: Real-time, Average and Manual Counting
Ultrasound Frequency: 3.0MHz
Built-in loudspeaker
Automatic shutdown after 1 minute without operation.
 Portable Fetal Doppler Fetus heart rate Detector : SIFETAL-2.2
Description

: fetal doppler
Listening to your baby's heart beat never been that busy. Just check your baby's heart beat anywhere, anytime at your convenience. This genuine Angelsounds Fetal Doppler Baby Heart Rate Monitor is the perfect way to listen to your baby's heartbeat at home anytime. Now all mothers can enjoy the pleasure of listening to their baby's heart right in the comfort of their own home. Many expectant mothers worry about their unborn baby during pregnancy. For these worried mothers, it can be very reassuring to buy a fetal doppler system.
Instructions to Use: fetal doppler
To record baby's heartbeat, mothers can plug the recording cable into either of the headphone sockets on the doppler. The other end of the cable should be plugged into the microphone socket on a computer. Mothers can plug headphones into the other socket to listen to the heart beat as well as being recorded. Press the doppler probe against the abdomen and turn the Angelsounds device on. Using recording software on the computer, press the "Record" button, and the computer will begin recording the baby's heartbeat.
Key Features & Technical Information: fetal doppler
Sixteen weeks into your pregnancy,the sounds of heartbeats,hiccups and kicks can now be heard. Whether you are facing a high risk pregnancy or just wanting reassurance that your angel is safe and well.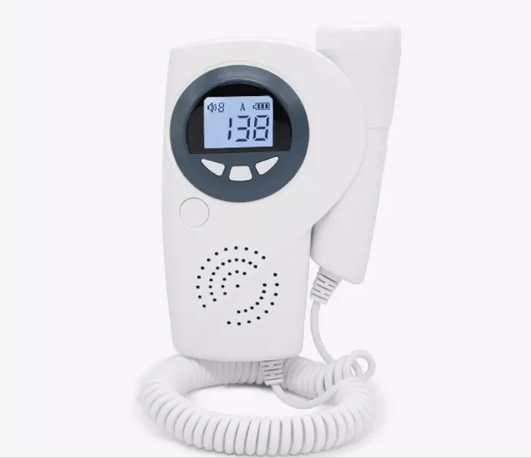 ▪ High sensitive ultrasound . ▪ Detect the heart rates of 12th week fetus. ▪ Automatic shutdown after 1 minute without operation. ▪ Built-in loudspeaker.
Technical Specification:
Display
: LCD Screen
Performance
: FHR Value, Volume, FHR Mode, Battery Status
Range&Accuracy
: FHR Measurement Range: 50~210 bpm Accuracy: ±2bpm
Measuring Modes
: Real-time, Average and Manual Counting
Ultrasound Frequency
: 3.0MHz
Dimension
: 260×96×35(mm)
Net Weight
: 250g±5g
Backlight and Speaker
: Backlight, Adjustable Volume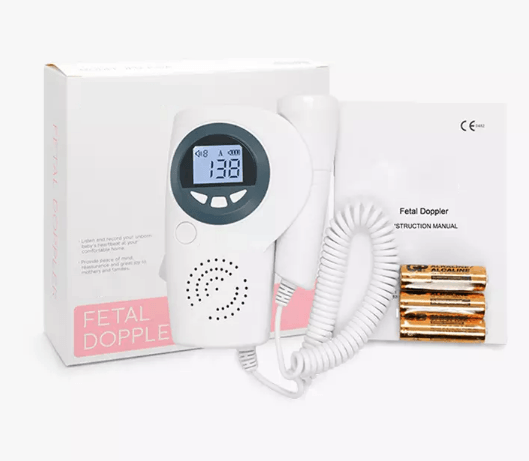 FDA
CE
 

ISO13485