Robotic Rehabilitation Gloves: SIFREHAB-1.1
February 5, 2021

Programmable Robotic Kit: SIFKIT-1.0
February 5, 2021
Programmable Robotic Kit: SIFKIT-1.1
Motor Voltage range: 1-6V; motor shaft length: 10mm; speed: 6.0V 100rpm/min.
Three groups of line tracking modules: detect black-white line with higher accuracy and can also be used for anti-fall control.
Two groups of obstacle detector modules: to detect whether there are obstacles on the left or right side of smart car; Ultrasonic module is used to detect the distance between ultrasonic and obstacles, forming the smart car's obstacle avoidance system.
Bluetooth wireless module: can be paired with Bluetooth device on mobile phone to remotely control smart car;
Infrared receiver module: matched with an infrared remote control to control the smart car;
Can access the external: 7 ~ 12V voltage.
Description
Programmable Robotic Kit:
SIFKIT-1.1
We can often see others on the internet making use of control boards and electrical components to build their own creative robots. Wanna DIY your own robot? Here comes the Programmable Robotic Kit: SIFKIT-1.1. The smart car still keeps the functions like line tracking, obstacle avoidance, IR and Bluetooth control and more.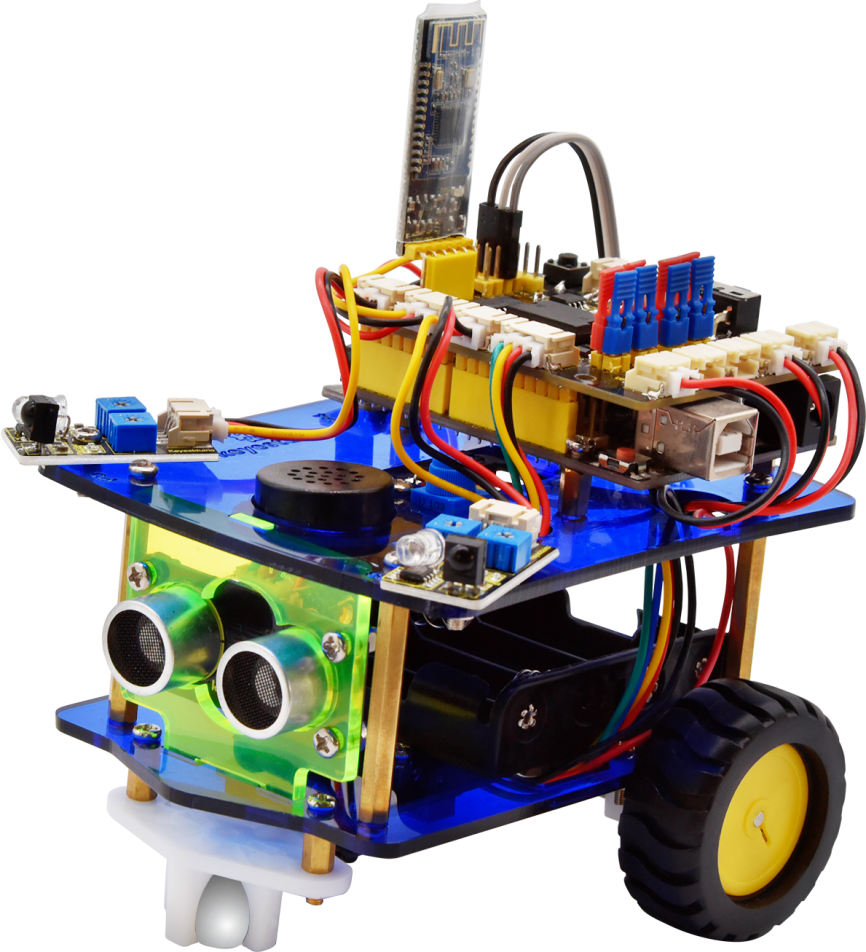 Programmable Robotic Kit: SIFKIT-1.1 Elements: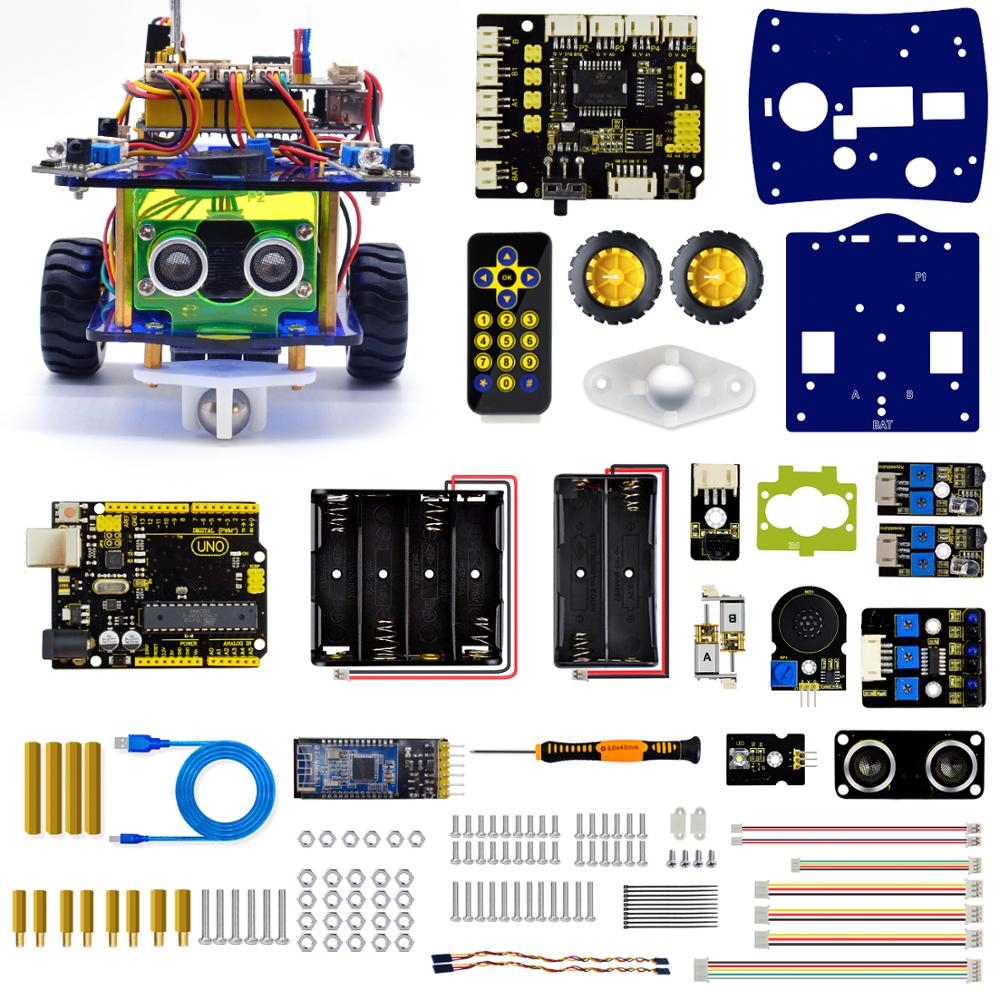 Programmable Robotic Kit: SIFKIT-1.1 Applications:
 Adding a microphone sound module to make a fantastic sound when driving the car run;
 Using Bluetooth HM-10 module, which can support Bluetooth 4.0; supporting both Android and iOS system; also can actuate the smart car with our own designed Bluetooth APP.
Can freely choose the battery case 18650 or 4-cell AA battery case to supply power for the robot car. Note that batteries are Not Included. Users can freely choose two 18650 batteries or four AA batteries (1.5V) to supply power for the robot car.
 Making improvements on the motor drive board; one is coming with a slide switch for controlling the power switch, the other is adding 8 jumper caps to control the DC motor direction, easy for code debugging.
 Coding the robot car with Mixly blocks software, simple and ready to play.
From the basics up to complex projects, through this kit you can learn to control the robot car with Mixly blocks coding. Easy to code and learn coding and computational thinking.
If you are looking for inspiration, you can find a great variety of tutorials here. Take your brain on a fun and inspiring journey through the world of programming and electronics.
SIFKIT-1.1 Course List:
1.Description
2. Parameters
3. Component List
4. Resources
5. Software Introduction

5.11) Installing Arduino IDE
5.22) Introduction for Mixly Blocks
5.33) Import Robot Library

6. Projects Guide

6.1 Project 1: Built-in LED
6.2 Project 2: LED Blink
6.3 Project 3: Obstacles Detection
6.4 Project 4: Playing Melody
6.5 Project 5: Obstacles Alarm
6.6 Project 6: Motor Driving and Speed Control
6.7 Project 7: Library Driving Motor
6.8 Project 8: Line Tracking Sensor
6.9 Project 9: Infrared Receiver
6.1 0Assembly Steps for Desktop Car

6.10.11) Bottom motor parts
6.10.22) Battery case
6.10.33) Tracking sensor and wheels
6.10.44) Ultrasonic module
6.10.55) Acrylic top board
6.10.66) Complete Car

6.11 Project 10: Following Robot
6.12 Project 11: Obstacle Avoiding Robot
6.13 Project 12: Line Tracking Robot
6.14 Project 13: IR Remote Control Robot
6.15 Project 14: Bluetooth Controlled Robot

6.15.1 Bluetooth Remote Control
6.15.2 Using Bluetooth APP
6.15.3 Build Bluetooth Control Robot

6.16 Project 15: Bluetooth Multi-function Robot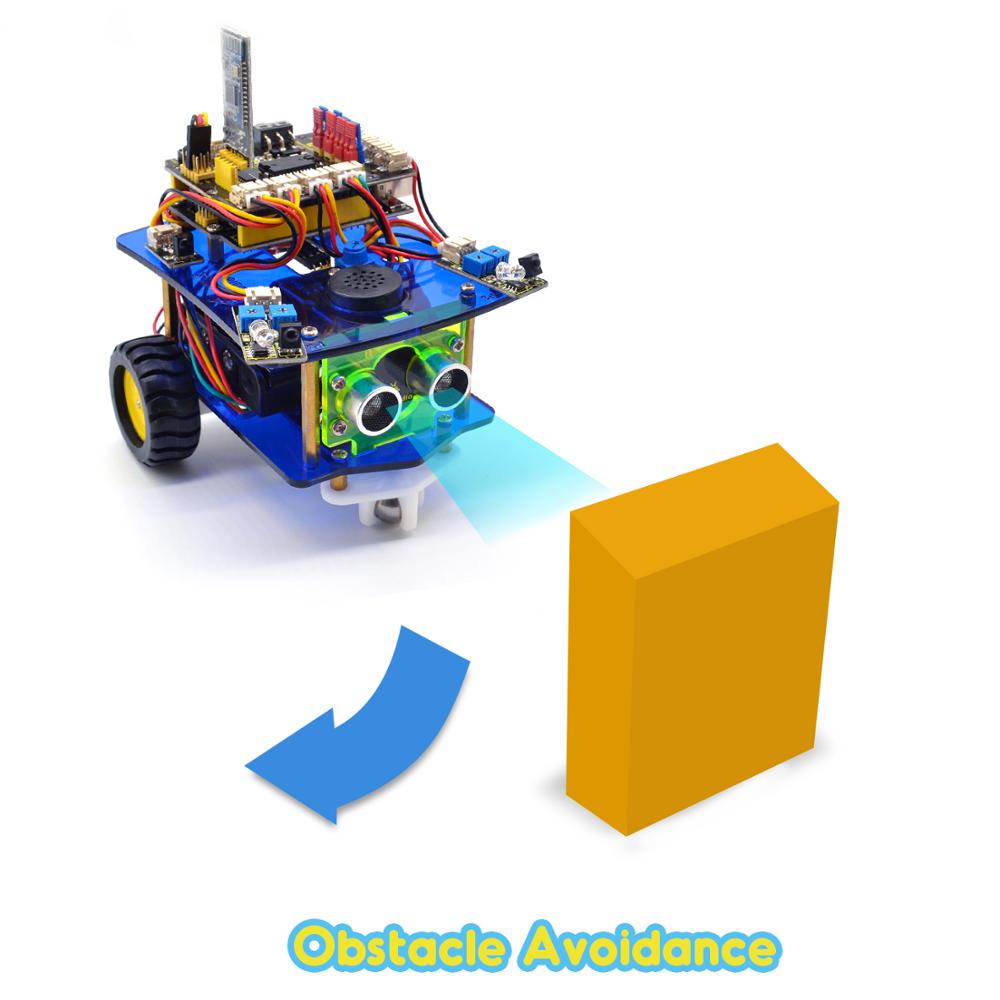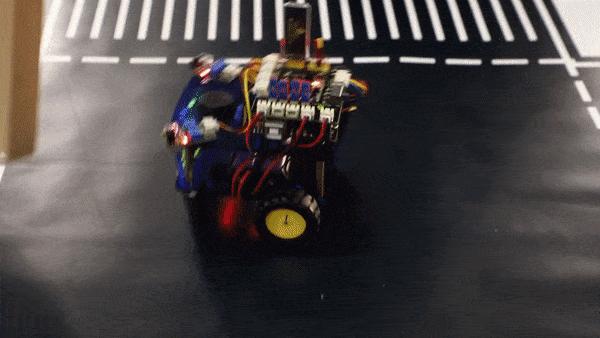 Inside The box: 
Programmable Robotic Kit: SIFKIT-1.1
× 5 Trees planted for one purchased item 
One Tree Planted is on a mission to reforest our planet and provide education, awareness and engagement on the importance of trees in our ecosystem. It also has a social impact encouraging and giving incentives to low-income people to plant Trees in their Area.
Reducing carbon footprint: A mature tree absorbs an average of 48 lbs of CO2 per year.
We give you the chance to participate and be part of this noble project. We plant Trees for you for each product you purchase from SIFSOF.
Let's re-Green our Earth together