100 units Pack of SIFOXI-1.1B – Fingertip Pulse Oximeter Bluetooth SPO2/PR
April 4, 2020

100 x SIFMASK-1.4 NIOSH Anti-Bacteria N95 Surgical Mask 
April 9, 2020
UV Light Disinfection Robot: SIFROBOT-6.5
Moving speed: 0.45m/s (in the navigation mode)
Turning performance: 360° zero-radius turning
Routine operating time: ≥4 hours
Processor: Intel® J1900 Quad-core 2.0Hz Chipset:
Intel® Bay trail SOC chipset
Obstacle detection systems: lidar, odometer, and
gyroscope.
Description
UVC Light Disinfection Robot: SIFROBOT-6.5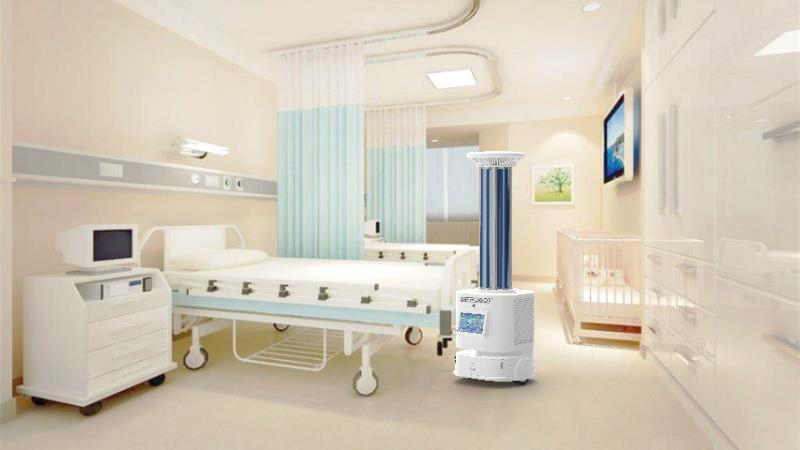 Currently, the only available method  to fight the spread of COVID-19 is simply not to get exposed to the virus. As simple as it seems, this surpasses human abilities since they cannot spot a microorganism with their naked eyes.
However, achieving a thorough and quick disinfection is top priority that must be done, as Coronavirus COVID-19 cases escalate. Scientific research showed that UV-C light has the potential to become a sustainable alternative for traditional epidemic control, especially in healthcare facilities. In many countries, robotic adjuncts have played a predominant role by through securing medical facilities; thus, protecting medical professionals and their patients.
SIFSOF enlists a new artificially intelligent robot, which specifically designed specifically to contain the epidemic spread, to the fight against Coronavirus. The UV Light Disinfection Robot: SIFROBOT-6.5 robot kills germs in the environment by decomposing their DNA structures. The robot has two disinfection methods
Ultraviolet Disinfection:
UV light provides rapid, effective inactivation of microorganisms through a physical process. When bacteria, viruses and protozoa are exposed to the germicidal wavelengths of UV light, they are rendered incapable of reproducing and infecting. Ultraviolet will achieve a comprehensive sterilization for surfaces and shadowed areas.
Air ventilation and Disinfection System:
Air drawn in from outside is directed over high-power UV-C lamps inside an air-conditioning duct module. These low-pressure mercury vapor lamps emit UV-C radiation with a precise wavelength that ill  reliably destroys germs. In this way, microorganisms that have penetrated from the outside are destroyed, and the whole ventilation system is also kept germ-free.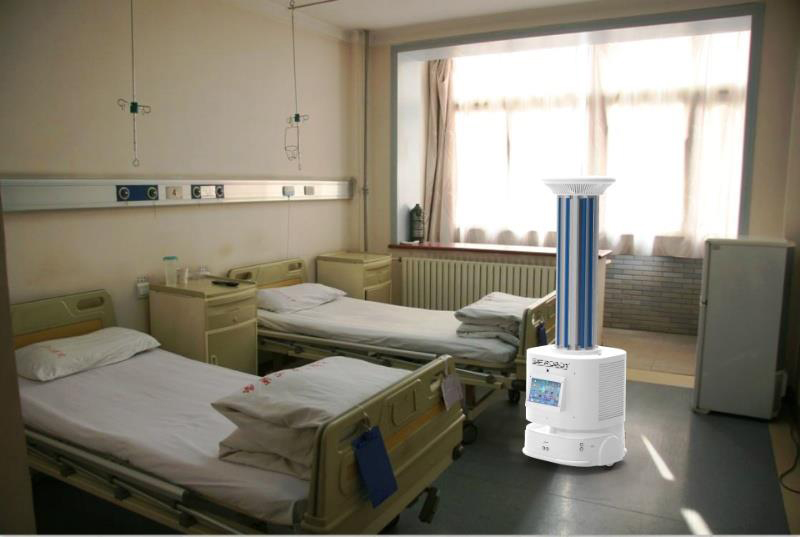 Strong sterilization and disinfection capabilities:  Ultraviolet beams are emitted to kill bacteria and other harmful microorganisms, with a disinfection rate of 99.99%, which effectively prevents cross infection in high-risk areas.
Large working space: . A large space can be fully covered in disinfection and sterilization using the chassis for autonomous movement.
No harmful residue: No harmful residues are generated during operation in the modes of air circulating disinfection and sterilization, and UV disinfection and sterilization.
Large disinfection spectrum: The robot is capable of effectively killing microorganisms in the air, such as fungi, bacteria, and viruses, and has significant effects on harmful microorganisms in aerosols and the like. At the same time, PM2.5, formaldehyde, TOVC and other harmful substances in the air can be eliminated due to HEPA filtration.
Unmanned operation: The robot features autonomous operation and realizes timed, fixed-point and multi-track mobile disinfection and sterilization a large space, according to the preset route and time requirements. It reduces the investment in human resources and helps promote the working efficiency and quality.
Autonomous charging: The robot is capable of autonomous charging, continuous operation, low power early warning and automatic recharging, thus effectively ensuring the endurance of ensuring the endurance of SIFROBOT-6.5.
UVC Light Disinfection Robot: SIFROBOT-6.5 scope of Application:
Medical institutions: Isolation ward, operating rooms, ERs, waiting areas, etc.
Transportation: Airport, train station, bus stations, etc.
Government: Offices.
Public areas: Hotels,, shopping malls, museums, etc.
Banks.
Laboratories.
Large buildings.
Restaurants.
Certificates:
CE
ROHS
Package Details :
Weight: 178kg by CBM
Dimensions: 81x86x190cm
Battery Details :
Weight: 22.5 Kg
Dimensions: L335*W360*H138 

Inside The box: 
UV Light Disinfection Robot: SIFROBOT-6.5
User Manual
Charging dock
12 Months Warranty
× 30 Trees planted for one purchased item 
One Tree Planted is on a mission to reforest our planet and provide education, awareness and engagement on the importance of trees in our ecosystem. It also has a social impact encouraging and giving incentive to low income people to plant Trees in their Area.
Reducing carbon footprint : A mature tree absorbs an average of 48 lbs of CO2 per year.
We give you the chance to participate and be part of this noble project. We plant Trees for you for each product you purchase from SIFSOF.
Let's re-Green our Earth together
Related: