Autonomous UVC Disinfection Robot: SIFROBOT-6.53
June 9, 2020


Desktop Face Recognition Infrared Non-Contact Thermometer – SIFROBOT-7.33
June 16, 2020
Description
UVC and Disinfectant Sprayer Sterilization Robot:
SIFROBOT-6.54
UVC + Disinfectant Sprayer Disinfection Robot: SIFROBOT-6.54  a wheeled chassis with a combination of disinfection machine and ultraviolet lamp collocation. It is suitable for flat ground shopping malls, families, schools, office areas and other places where sterilization can be blocked.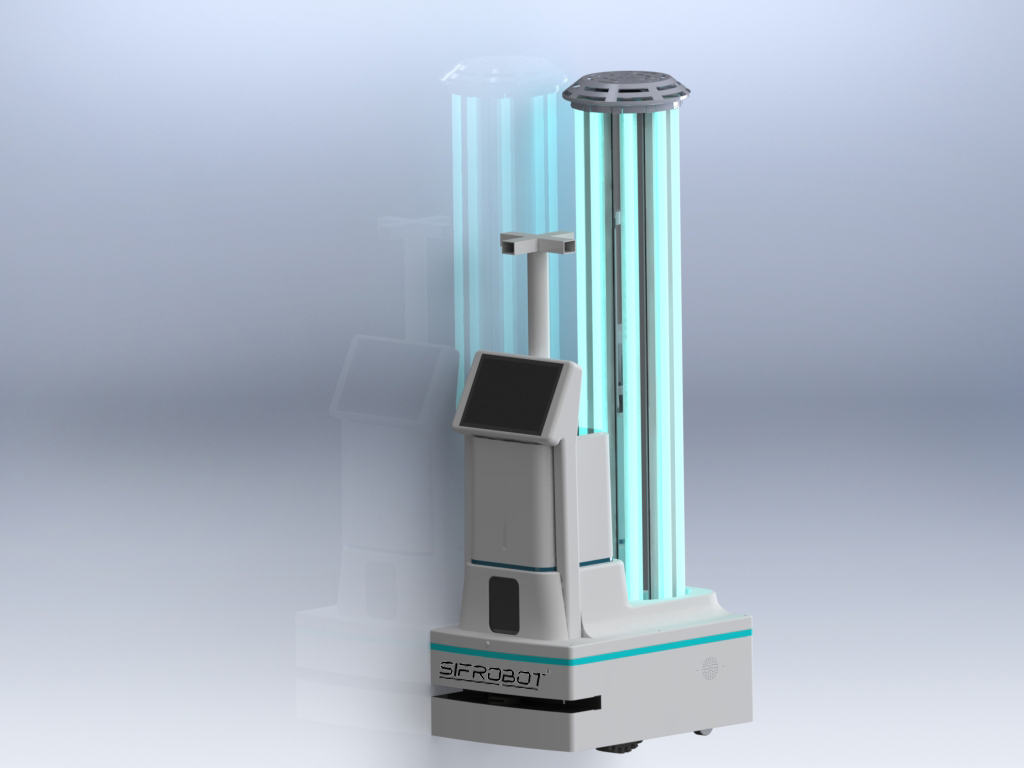 The robot is equipped with lidar, which can realize omni-directional scanning and ranging detection of the surrounding environment. According to the obtained contour map, the disinfection and sterilization should be carried out in a planned way, so as to avoid adverse effects caused by close tracking contact of human body. The robot is driven by high-density lithium battery, which is maintenance-free and has a long cycle.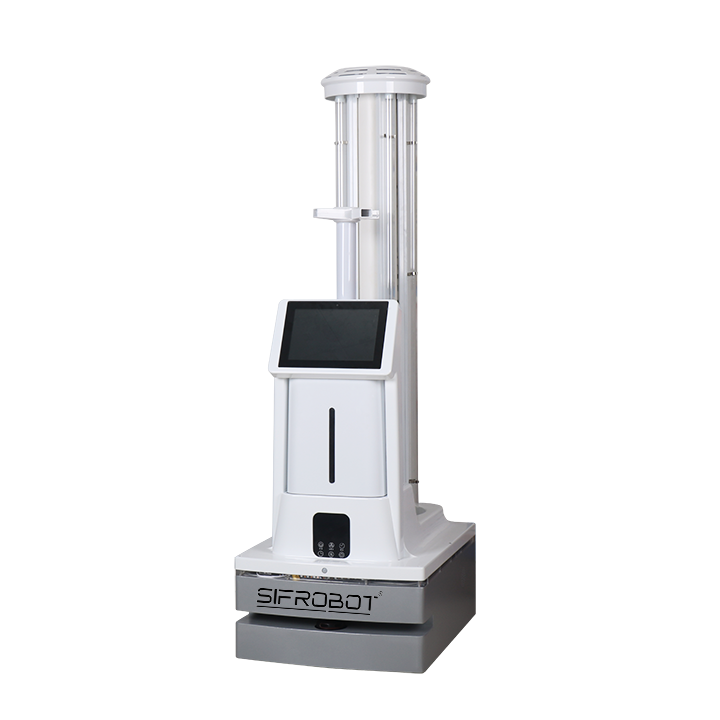 In terms of killing performance, the chassis is equipped with disinfectant sprayer and ultraviolet lamp. It can effectively kill bacteria and pathogenic microorganisms in the environment and air. Accumulated light intensity of ultraviolet lamp: 936uw /cm2, with a coverage radius of not less than 6m. In addition, the disinfection area of the sprayer can reach up to 120m2 , which can achieve 360 degree omni-directional coverage.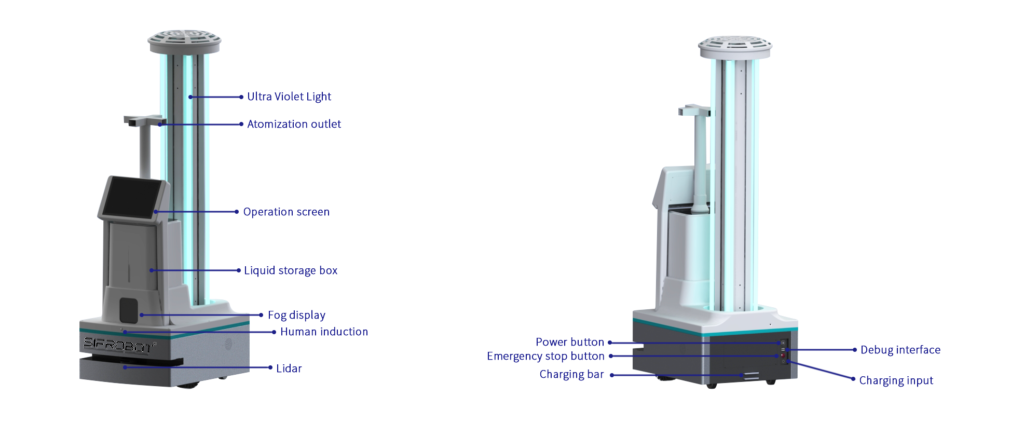 Dual Operation Disinfection Robot: SIFROBOT-6.64 Technical Specifications: 
Machine parameters
SIze
Chassis size(mm)
635*486*1530
Weight
Include battery
50KG
 

 

 

 

Power Supply

Battery
Lithium battery
Battery capacity
24V/40Ah
Charging time
≤2H
Service life
Keep 80% capacity after 300 times of cyclic charging
Maximum charging

voltage

29.4V
Endurance (no load)
6H
 

 

 

Driving wheel

Size(Wheel diameter * wheel width)
200*50mm
Materials
Rubber
Power
150W
Maximum speed
250r/min
Maximum torque
30NM
 

 

Omni-directional wheel

Materials
Rubber
Size(Wheel diameter * wheel width)
50*25mm
Radius of gyration

(mm)

50
Single bearing
80KG
 

 

Performance

Maximum load
50KG
Maximum speed
0.7m/s
Navigation accuracy
±50mm
Direction
360°rotation
 

 

Safety protection

Emergency stop

button

Emergency stop
Human induction
Thermal infrared body sensor
Remote control

function

Configure remote control module remote control
 

 

Navigation

Navigation mode
SLAM Navigation
Path planning
Automatic planning / Manual route

planning

Navigation sensor
Lidar (16m)
 

 

Signal communication

Wireless network
2.4G/4G WiFi
Debugging port
Ethernet RJ45
USB
USB 2.0
Wireless transmission
200M
 

 

 

 

Environmental Science

Environment temperature
0℃~45℃
Environment humidity
Relative humidity 5-95% (house frosting)
Operating environment
Indoor (no dust and corrosive gas)
Degree of protection
IP20
Anti-skid coefficient of ground
≥0.5
Ground requirements
Concrete level ground (without water, oil or dust)
 

 

Ground conditions

Vertical obstacle surmounting ability
10mm
Ability to cross gullies
20mm
Maximum climbing angle
5°
 

Disinfectant spray part

Capacity
15L
Mist density
1500ml/h
Applicable area
60-120 ㎡
 

Ultraviolet part

UV intensity
117UW/CM²(each)
Ultraviolet disinfection
UV + ozone release
Design parameters of charging pile
 

 

Charging Pile

Overall dimension

(mm)

400*128*250
Input voltage
AC220V
Output voltage
29.4/7A
Rated power
200W
Intelligent Disinfection Robot: SIFROBOT-6.54 Application Scenarios: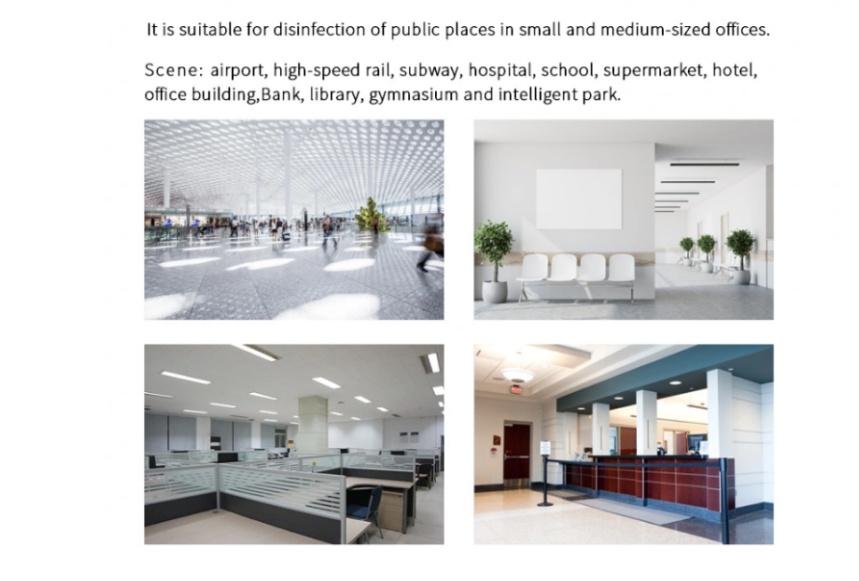 SIFROBOT-6.54 In Action: 

Inside The box: 
UVC and Disinfectant Sprayer Disinfection Robot: SIFROBOT-6.54
Charging dock
User Manual
12 Months Warranty
× 30 Trees planted for one purchased item 
One Tree Planted is on a mission to reforest our planet and provide education, awareness and engagement on the importance of trees in our ecosystem. It also has a social impact encouraging and giving incentive to low income people to plant Trees in their Area.
Reducing carbon footprint : A mature tree absorbs an average of 48 lbs of CO2 per year.
We give you the chance to participate and be part of this noble project. We plant Trees for you for each product you purchase from SIFSOF.
Let's re-Green our Earth together 🙂
Related: