Otorhinolaryngology a surgical subspecialty within medicine that deals with a range of medical and surgical management of the ear, nose, sinus, head and neck problems.
Otolaryngology (ENT)/head and neck surgeons perform common procedures, such as removal of the thyroid gland (thyroidectomy), repair of eardrum (tympanic membrane) perforations and sinus surgery. Additionally, they do highly complex surgeries, such as endoscopy for pituitary tumors, robotic surgery for throat cancer and microsurgery for acoustic neuroma tumors (made easier by ENT Laser surgery).
Laser surgery for the ears, nose, and throat is becoming commonplace. The surgical otolaryngology approach has been transformed by the capacity to do minimally invasive, extremely precise surgery, appropriate for a wide variety of treatments for disorders of the ear, nose, and throat, thanks to the advancement of laser sources.
CO₂ laser is mostly used in ENT, particularly appreciated for the high precision in cutting combined with an excellent coagulation effect. CO2 laser cuts tissue by flash boiling extracellular or intracellular water molecules in contact with the beam. This vaporization sterilizes the tissue and seals capillaries.
Studies have shown that the cutting beam of the CO2 laser can be attached to the operating microscope to facilitate Laser surgery deep within the orbit. The effectiveness of the CO2 cutting action depends upon the water content of the tissue rather than tissue colour as with argon and krypton lasers.
PULSE laser systems represent a turning point towards easier, faster, safer, and more effective surgery. The main advantages of CO₂ laser surgery are :
-Simplicity
-Speed
-Minimally invasive surgery
-Low morbidity
-Possibility of operating on elderly and /or debilitated patients and/or with a pacemaker
-Shorter hospitalization (cut in healthcare costs)
Herein we recommend The Medical Diode Laser Systems SIFLASER-3.3, FDA. Thanks to its reusable optimal hand laser probes developed by SIFSOF in combination with a matching guide and handpieces it enables a plethora of therapeutic options in the field of ENT.
SIFLASER-3.3 can be used in contact mode, in which the tip of the fibre is placed directly on the surface of the tissue. This mode is effective for both photocoagulation and vaporization of tissue, depending on the power density. At the low- or mid-power range, coagulation occurs; at a higher level, vaporization occurs.
To sum up, the most bloodless procedure accessible now is Diode Laser surgery. This laser is ideal for ENT work and may be used in a variety of procedures involving the ear, nose, larynx, and neck. The quality of ENT surgery has significantly improved with the advent of the Diode Laser.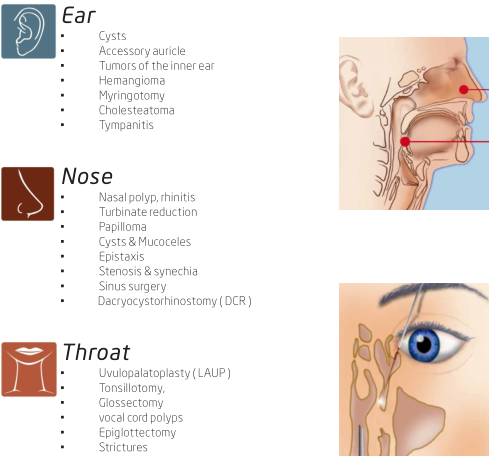 This device is used by a licensed Otorhinolaryngologist.
References:
A Comparative Analysis of Outcomes of Conventional Cold Dissection Versus Laser Tonsillectomy in Pediatric Cases in a Tertiary Care Hospital in Haryana