Wireless Transvaginal Ultrasound Scanner Color Doppler FDA SIFULTRAS-6.36
October 28, 2020


Bluetooth Body Fat Scale 7 in 1 function: SIFSCAL-3.1
November 2, 2020
Description
Autonomous UVC Disinfection Robot:
SIFROBOT-6.58
The Autonomous UVC Disinfection Robot: SIFROBOT-6.58 adopts SLAM navigation and obstacle avoidance systems to perform a fast and comprehensive disinfection process.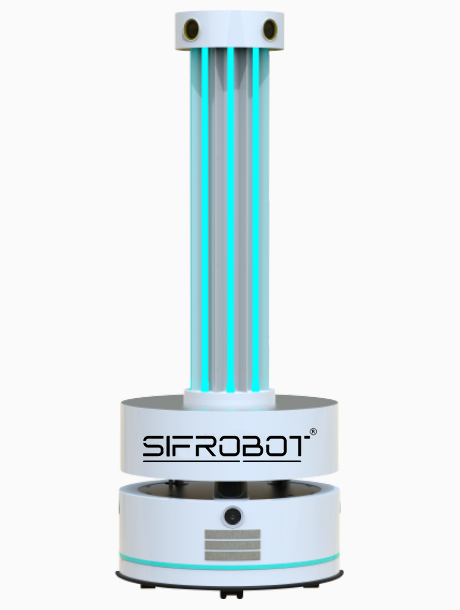 UVC Disinfection Robot SIFROBOT-6.58's Advantages:
Sterilization without any residue or pollution: The top-level professional UVC disinfection lamp emits light at 254 nm with a total irradiation intensity of 1500 µW/cm2,  which ensures the disinfection effect by breaking the DNA and RNA chains of viruses, fungi, bacteria, and other microorganisms so that they are inactivated to reproduce.  It can achieve a disinfection effect of 99.9999%, without ozone and secondary pollution.
Easy operation: The SIFROBOT-6.58 offers precise positioning, autonomous navigation, intelligent obstacle avoidance,
automatic return to charging dock, mobile APP control, user-defined disinfection route and time, automatic start
of disinfection at the scheduled time.
Safe to use: UVC lamps will automatically turn off upon infrared detection of object movement to ensure safe use.
Auto-charging: The robot will return to auto-charge after completing the task, so the trouble of line charging is avoided
UVC Disinfection Robot's Details: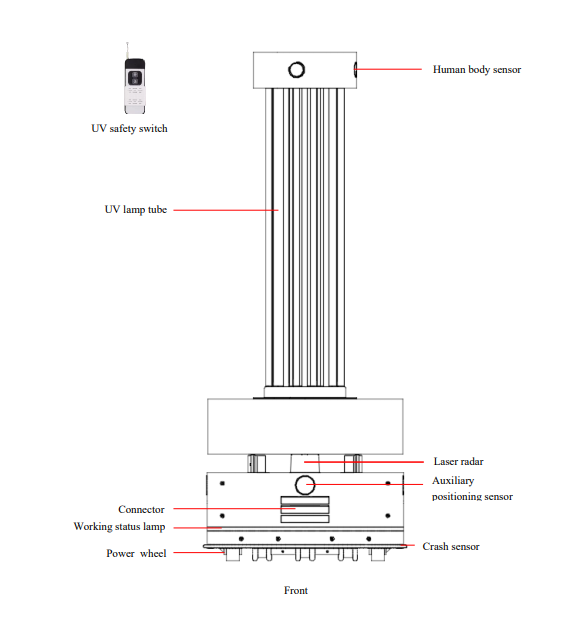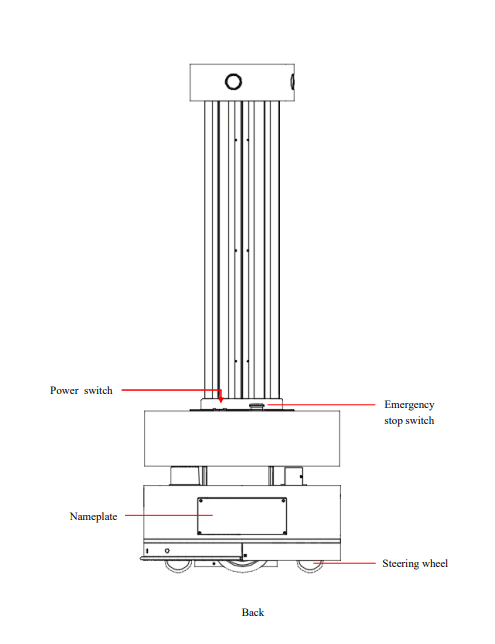 SIFROBOT-6.58 Technical Specifications:
Type

Product
Autonomous UVC Disinfection Robot
 

 

 

 

 

Basic parameters

Model

SIFROBOT-6.58

 

Intended use

Indoor Disinfection

Dimension

Diameter 530mm* Height 1375mm (lamp tube 843mm)

Weight

55.6kg

Rated power

475W
 

Applicable scenes

Hospitals, hotel halls, restaurants, residential corridors

office buildings..etc

 

 

 

 

 

 

 

Ultraviolet sterilization

UVC lamp wavelength
254nm
UVC lamp material

Quartz

Qty. of UVC lamp tubes

10

UVC lamp power

41W*10
UVC power

16 W*10

Cumulative light intensity

1500 μw/cm²

Irradiation direction

360°

Sterilization scope

Bacteria, molds, viruses, etc. on the surface of objects

Lamp life

10000 h

Safety

Should not be used around humans, pets, or other valuable objects
Start mode

By specific order

 

 

 

Movement

Moving speed

0.45 m/s
Driving mode

Differential driving

Over-obstacle capacity

≤10 mm

Gradeability

≤8°

Passage width

≥750 mm

 

 

 

Battery

Battery capacity

25.2V / 38Ah
Service time

1.8h

Mode of charging

Automatic

Charging time

3.5h

Charging pile

110V~240V wide voltage input
SIFROBOT-6.58 In Action:

Inside The Box: 
Autonomous UVC Disinfection Robot: SIFROBOT-6.58
User Manual
Charging dock
12 Months Warranty
× 30 Trees planted for one purchased item 
One Tree Planted is on a mission to reforest our planet and provide education, awareness and engagement on the importance of trees in our ecosystem. It also has a social impact encouraging and giving incentive to low income people to plant Trees in their Area.
Reducing carbon footprint : A mature tree absorbs an average of 48 lbs of CO2 per year.
We give you the chance to participate and be part of this noble project. We plant Trees for you for each product you purchase from SIFSOF.
Let's re-Green our Earth together