T-Model Biplane Wireless Ultrasound Scanner SIFULTRAS-5.27
October 24, 2019


Portable Linear Ultrasound Scanner SIFULTRAS-5.15 For Vascular Surgeon
October 29, 2019
Built-in Screen Linear Ultrasound Scanner SIFULTRAS-5.14
Compatible With: iOS, Android.
Frequency: 7 – 10 MHz.
Number Of Elements: 128 E.
Scanning Depth: 20 – 50mm (Adjustable).
Display mode: B, Color, PW, Volume.
For quantity discounts Please call : +1-323 988 5889.
10 × Trees planted for one purchased item











Description
Built-in Screen Linear Ultrasound Scanner SIFULTRAS-5.14
The built-in screen SIFULTRAS-5.14 is an indispensable tool in ultrasound-Guided Vascular Access.  It is used for target vessel visualisation to minimise complications and increase success rates during vascular cannulation.
The Linear ultrasound probe SIFULTRAS-5.14 comes with a High-Quality Built-in screen. That transmits the image to a larger iOS or Android Screen using WiFi.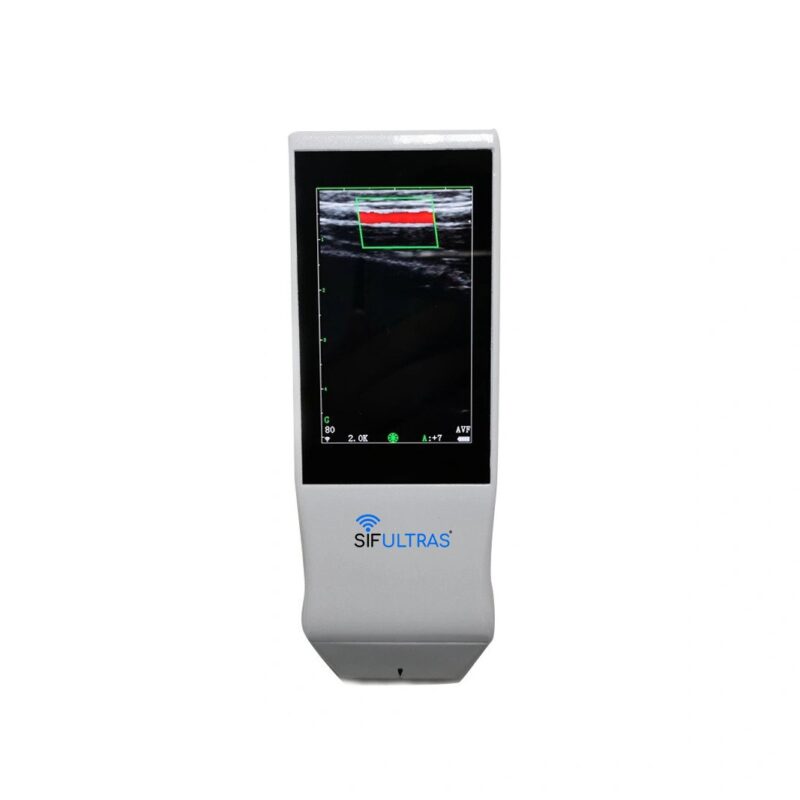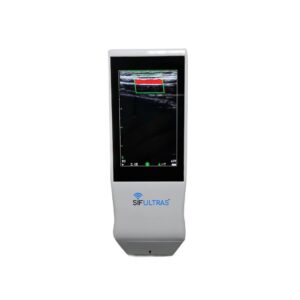 Our revolutionary Built-in Screen SIFULTRAS-5.14 is a High-Resolution ultrasound transducer with 128 Elements and a Frequency range of  7 to 10 MHz.
The major advantages of the Wireless Ultrasound Machine SIFULTRAS-5.14 is its dynamic and accurate evaluation of the scanned body organ, compared to its symbolic price.
The Built-In Screen Ultrasound Scanner SIFULTRAS-5.14 is now the imaging modality of choice for evaluating tendon pathology. It has enabled detailed depiction of superficial musculoskeletal structures as well.
Thanks to this device's  Wireless freedom, superior image quality and handiness for quick and accurate diagnosis. It is suitable for many procedures:
Vascular Examinations.
Intraoperative Laparoscopy.
Venipuncture.
Blood Vessel Visualization.
Breast Examinations.
Photo-Acoustic Imaging
AVF (autologous arteriovenous fistula)
The measurement of body fat and muscle thickness (for daily health care checks).
Anesthesia: Nerve Block Procedures NBP, PICC, PNB, VP, ….
     Built-In Screen SIFULTRAS-5.14: 
Make ultrasound easier and more efficient to use.
Provide increased precision and control during procedures.
Reduce additional hospital costs associated with complication.
Reduce the learning curve for complex procedures.
Provide the ability to track the needle tip all the time, Decrease number of needle passes, Increase patient safety: Reduction of anxiety and pain.
       Features:
    Easy: 
Boot in one second and you can enter into working status immediately.
Simple operation, short learning curve without ultrasound training.
High integration, small size, only 185 g, you can place it in your pocket, easy to carry.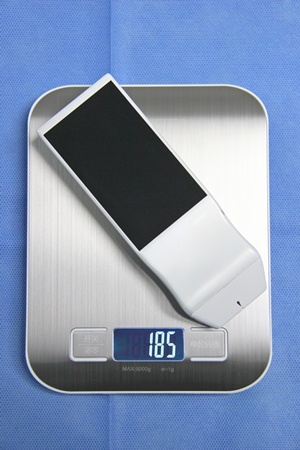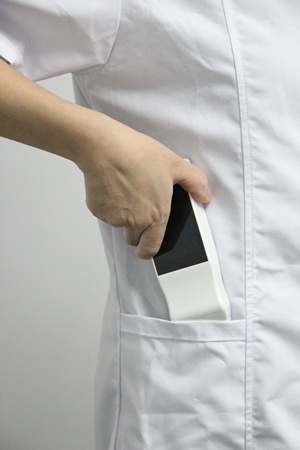 Professional: 
Integrated handheld color ultrasound, built-in probe, your cable aseptic problem can be solved.
Integrated handheld color ultrasound, built-in touch and display screen, you can work independently no need to connect to a tablet. Solves the following problems:
While the doctor eyes used to constantly switch between puncture and screen, now they can focus on the puncture point.
Before the physician need someone else to operate the machine. Now you can complete the vascular puncture by yourself, with the probe in one hand and needle in the other hand.
Wireless connection can cause problems occasionally, especially in complex network environments. Which is limited by the principle, regardless of using 2, 4 or 5 G. Now you can always get a smooth image.
The tablet or smartphone is not easy to place when you use wireless or USB ultrasound, especially in the operating room. Many times, another medical staff holds it. Now you can hold it by yourself freeing up staff and saving time.
The technique of puncture enhancement helps the practitioner perform puncture accurately.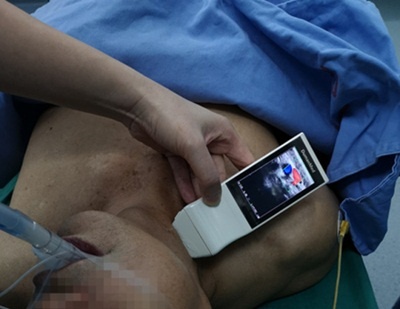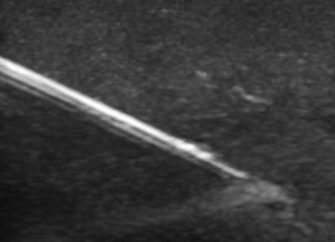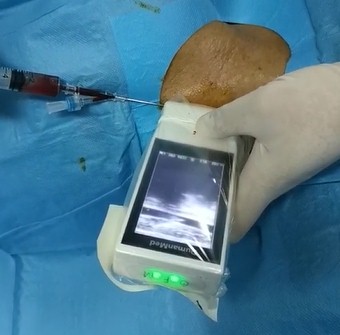 Intelligent: 
Intelligent control, so you can operate with one hand, and you can learn and use it very easily.
Intelligent preset, set optimal parameters for each application; intelligent memory, automatically enter the last shutdown interface every time you boot.
Intelligent measurements: automatic measure vessel diameter, flow velocity and blood volume with very simple operation, ideal for applications those need assess vascular flow, such as dialysis.
     Innovative:
Dual screen display: the built-in display screen and wireless connected mobile screen can be displayed at the same time and can be observed by multiple people, suitable for consultation.
Full sealing design: it can be short soaked and disinfected, beneficial to strengthen infection control.
Wireless charging: you can charge anywhere.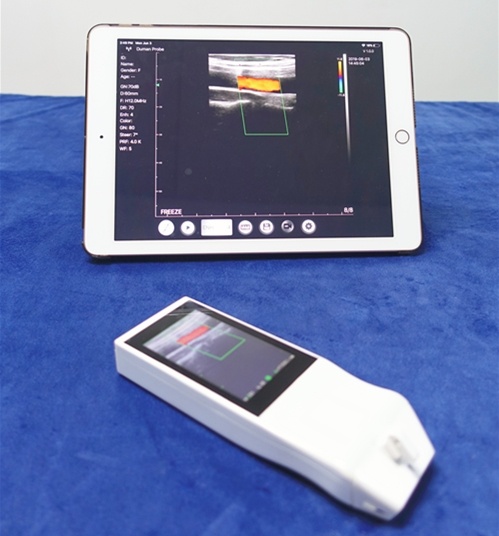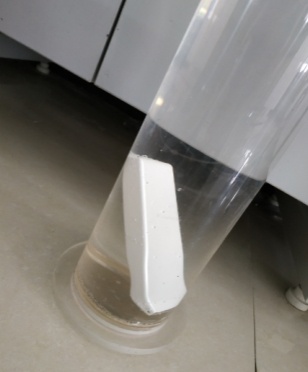 Specifications:
Model: Built-in screen Linear SIFULTRAS-5.14.
Scan mode: Electronic linear array scanning.
Frequency: 7MHz & 10MHz.
Elements: 128 elements.
Scanning Depth: 20-50mm, Adjustable.
Screen: Dual screen vision, Integrated screen and Smart phone or tablet screen.
Supporting system: iOS, Android.
Display mode: B, Color, PW, Volume.
Image/video Storage: Store on mobile phones, Tablet.
Measure: distance, area, velocity, heart rate, s/d, auto blood volume.
 Power: by built-in lithium battery.
Battery Continuous working time: 3 hours in B mode.
Size: 150mm×53mm×22mm.
Net Weight: 185 gram.
      Applications: 
Anesthesia, ICU, intervention, tumor, catheter, emergency: visual guidance of CVC, PICC, port, long and midline catheters, radial artery, femoral artery and vein, nerve block and other puncture visual guidance.
Renal and Hemodialysis center: establishment and maintenance of vascular access, visual guidance of Dialysis puncture.
Pain management, rehabilitation, Physiotherapy: visual guidance of diagnosis and treatment, such as soft tissue lysis, effusion extraction, etc…
Plastic surgery: visual guidance of cosmetic surgery.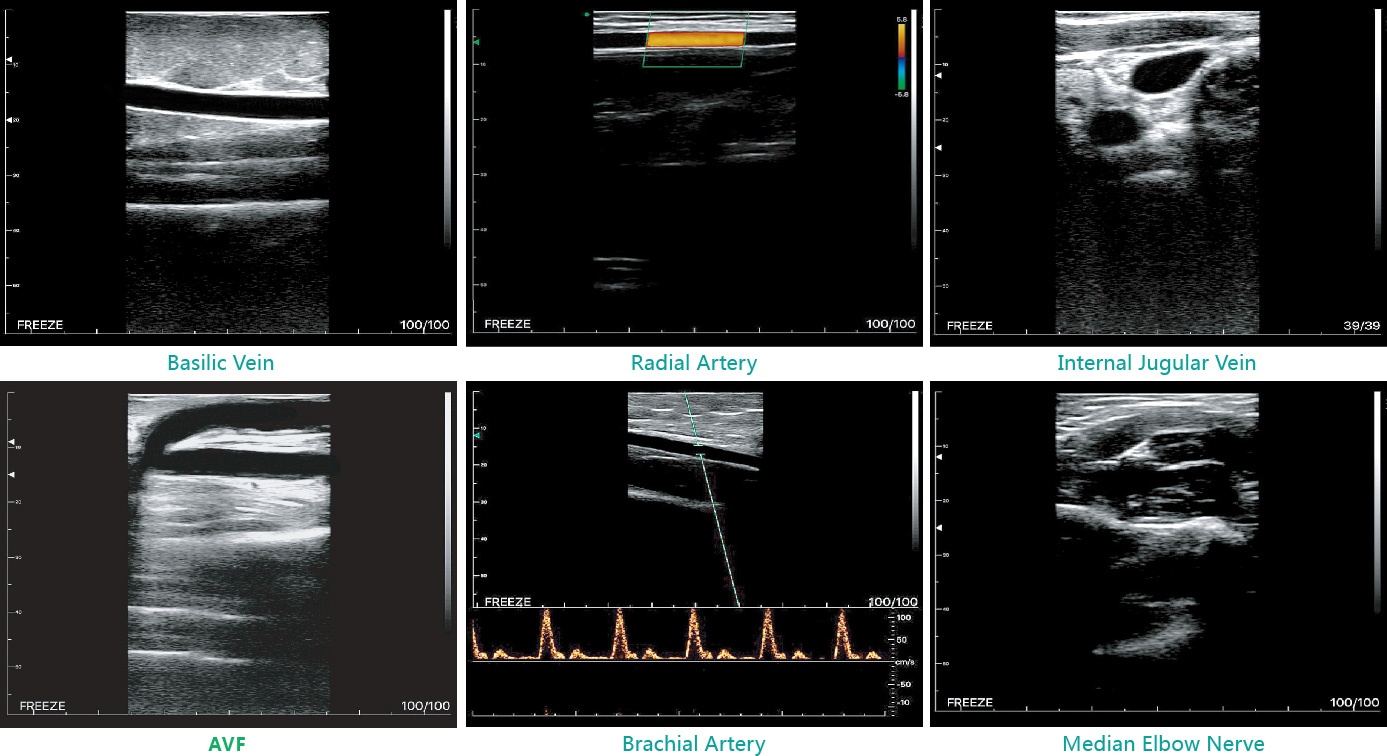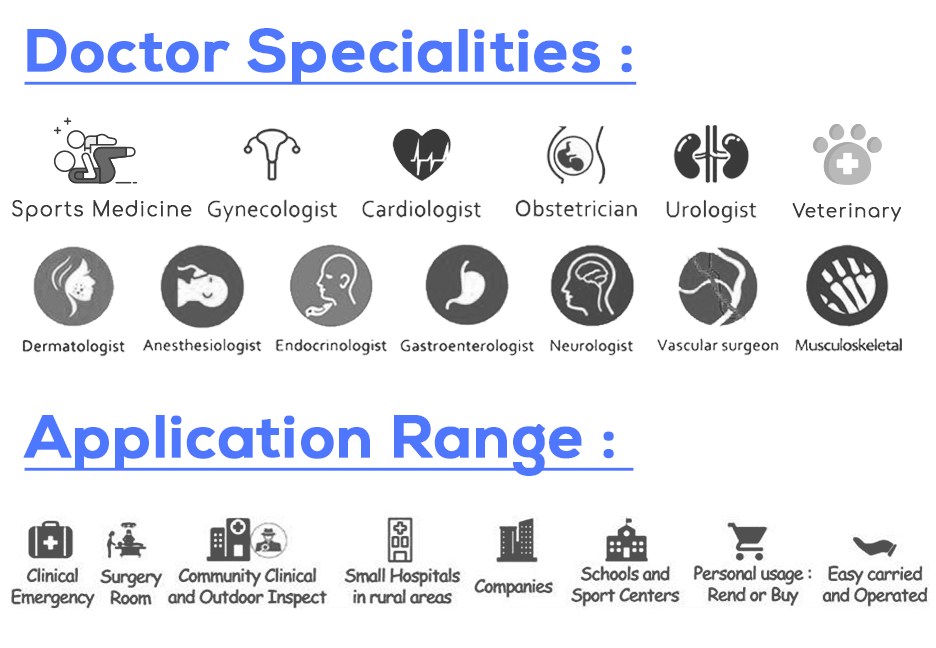 Certifications:
CE
ISO13485
This product is not to be used in the US.

Built-in Screen Linear Ultrasound Scanner SIFULTRAS-5.14.
Wireless Charger.
User Manuel.
12 months warranty.










10 × We plant for you ten Trees











× 10 Trees planted for one purchased item
One Tree Planted is on a mission to reforest our planet and provide education, awareness and engagement on the importance of trees in our ecosystem. It also has a social impact encouraging and giving incentive to low income people to plant Trees in their Area.
Reducing carbon footprint : A mature tree absorbs an average of 48 lbs of CO2 per year.
We give you the chance to participate and be part of this noble project. We plant Trees for you for each product you purchase from SIFSOF.
Let's re-Green our Earth together 🙂 



…