100 x SIFMASK-1.4 NIOSH Anti-Bacteria N95 Surgical Mask 
April 9, 2020


200 x SIFMASK-1.4 NIOSH Anti-Bacteria N95 Surgical Mask 
April 10, 2020
Intelligent Mobile Disinfection Robot: SIFROBOT-6.6
Size and weight: 50 * 50 * 130cm / 60kg
Navigation: SLAM technology
Charging method: Autonomous charging
Efficiency: 3000ml / H heavy fog
Liquid volume: 16L
Cleaning agent: Suitable media Sodium hypochlorite, hydrogen peroxide, peroxyacetic acid, etc.
Moving speed: 0.6 m/s
Battery life: 6H (autonomous recharge)
Obstacle crossing andgrade ability: ±10mm, ≤8°
Description
Intelligent Mobile Disinfection Robot:
SIFROBOT-6.6
The new coronavirus has demonstrated human beings' vulnerability against this microscopic airborne virus. In fact, this dilemma requires the intervention of robotic artificial intelligence since it is more effective and practical. Cleaning staff or a 'suicide squad' do not have to put themselves at risk to clean a contaminated area because the Intelligent Mobile Disinfection Robot: SIFROBOT-6.6  will do the job for them.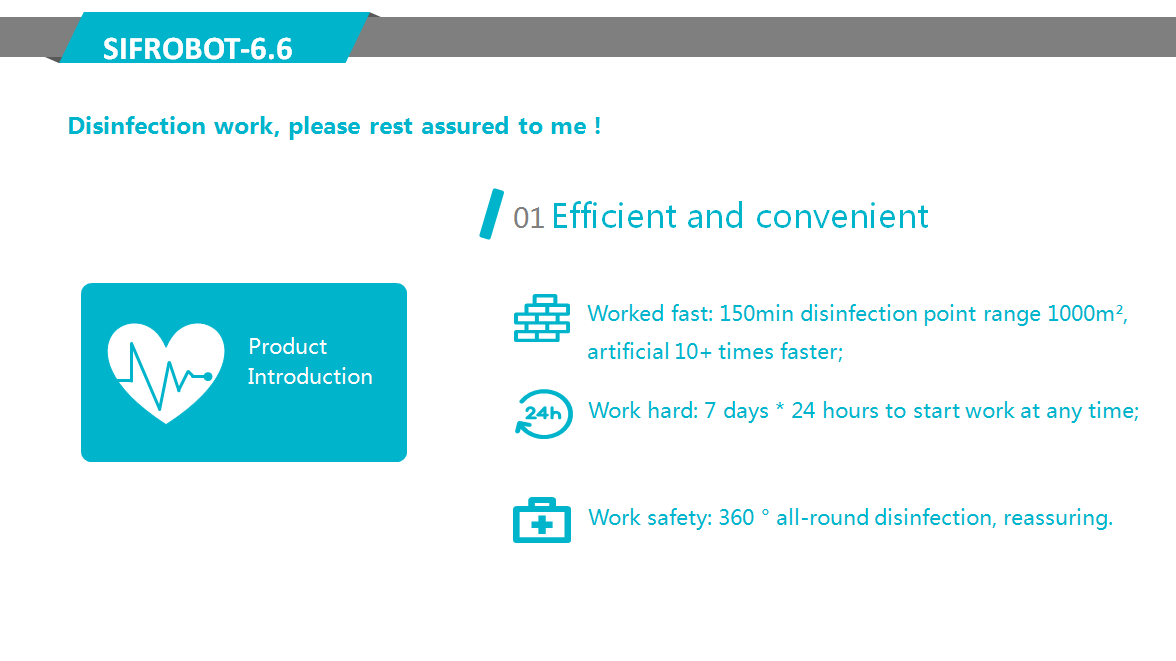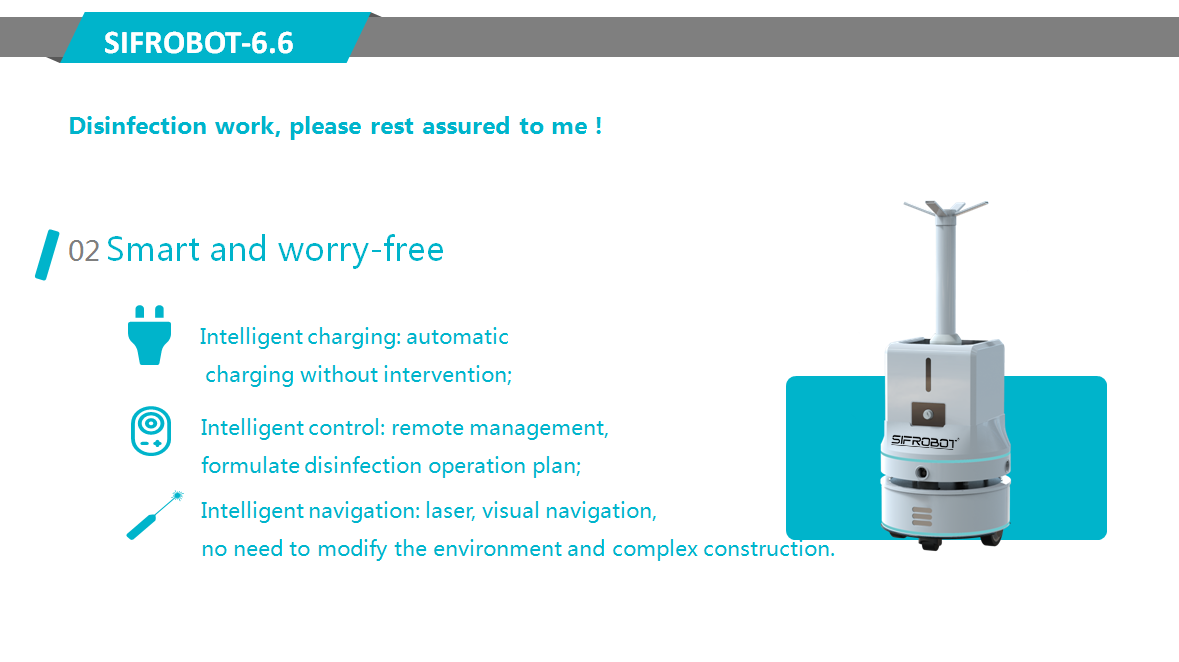 Advantages of the Intelligent Mobile Disinfection Robot: SIFROBOT-6.6:
Sterilizes the air and surfaces in a room: including hard-to-reach areas for a comprehensive, fast, modern and more effective sterilization process.
Safer to use: because SIFROBOT-6.6 uses safe sprays so there's no chance of hazardous substances accidentally falling into the wrong hands – an important consideration in hospitals where vulnerable people are accommodated.
Less intensive labor: Once in position, SIFROBOT-6.6 will perform the job without the need for further control.
Effectively replacing traditional cleaning equipment.
Green cleaning, disinfection and sterilization: The disinfectant used by SIFROBOT-6.6 is EPA approved and environmentally friendly.
More comprehensive access: SIFROBOT-6.6 has multi-sprayers can reach narrow spaces and clean areas which are difficult to access, such as: Corners, certain types of furniture, etc.
Lessens the intensity of seasonal flu: The robot is deployed in many public facilities including banks, train stations, metro stations, airports, hotels, malls, theaters and areas that represent a breeding ground for transmittable viruses to create a more secure and healthy environment in public places during the flu season.
Multi-scene application:
Medical institutions: Isolation ward, operating rooms, ERs, waiting areas, etc.
Transportation: Airport, train station, bus stations, etc.
Government: Offices.
Public areas: Hotels,, shopping malls, museums, etc.
Banks.
Laboratories.
Large buildings.
Restaurants.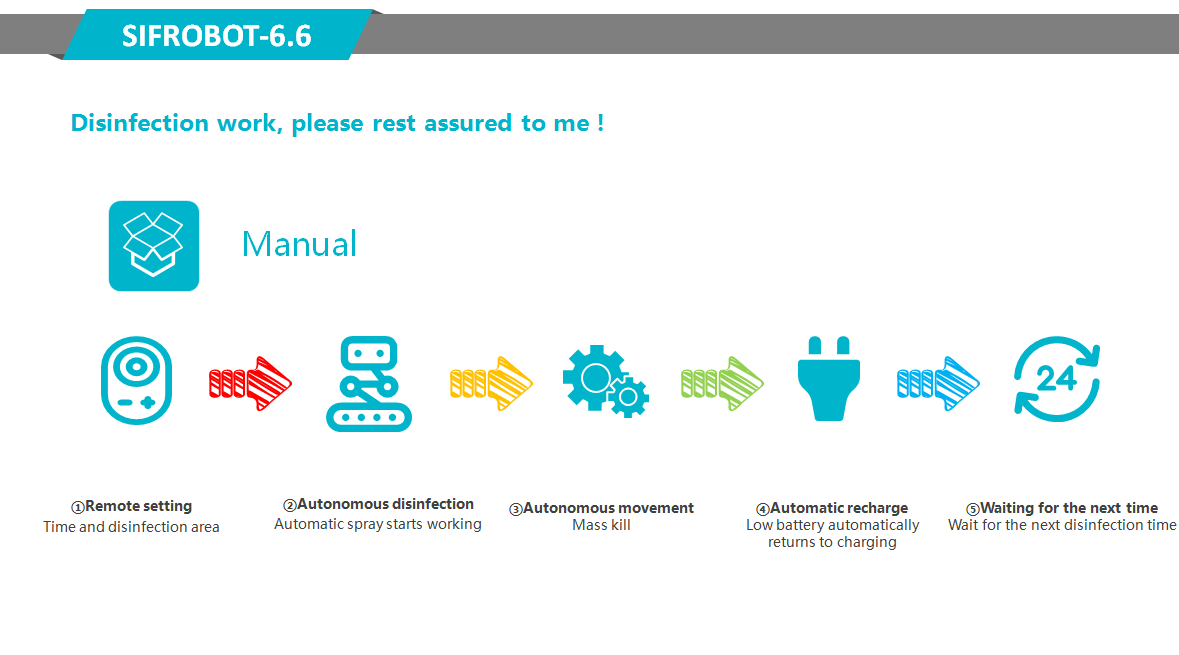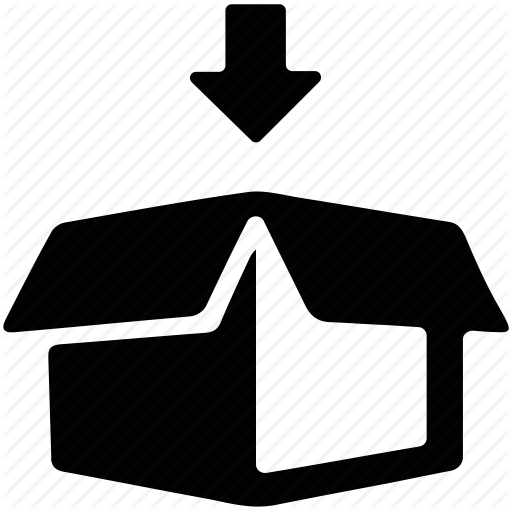 Intelligent Mobile Disinfection Robot: SIFROBOT-6.6
12 Months Warranty
× 30 Trees planted for one purchased item 
One Tree Planted is on a mission to reforest our planet and provide education, awareness and engagement on the importance of trees in our ecosystem. It also has a social impact encouraging and giving incentive to low income people to plant Trees in their Area.
Reducing carbon footprint : A mature tree absorbs an average of 48 lbs of CO2 per year.
We give you the chance to participate and be part of this noble project. We plant Trees for you for each product you purchase from SIFSOF.
Let's re-Green our Earth together.
Related:
Anti-epidemic TechnologyDisinfection Robot Vs Manual Labor