810 nm Portable Surgery Laser System FDA SIFLASER-1.2A
Wavelength: 810nm
Maximum Power: 15W.
Operation Mode: CW, Single Or Repeat Pulse
Pulse Duration: 25μs-10s.
Repetition Rate : 0.05Hz-20KHz.
Control Mode: True Color Touch Screen.
Certifications: FDA / CE0197
Free shipping 
For quantity discounts Please call : +1-323 988 5889
810 nm Portable Surgery Laser System FDA
SIFLASER-1.2A
The FDA SIFLASER-1.2A surgery laser system is a new addition to the currently existing surgery laser systems. Because of its maximal absorption in haemoglobin and water permeability, this "CO2 + KTP"-like laser unit is useful for coagulation, vaporization, and bloodless surgery. The tissue components haemoglobin and melanin interact more with the blue laser light. Even at reduced power, this allows for far better and softer cutting at 810 nm. It's appropriate for all medical applications and hemostasis because of its improved cutting performance.
Cutting surgery, spider vein, physical therapy, and dentistry are just a few of the applications for SIFLASER-1.2A's wavelength of 810 nm.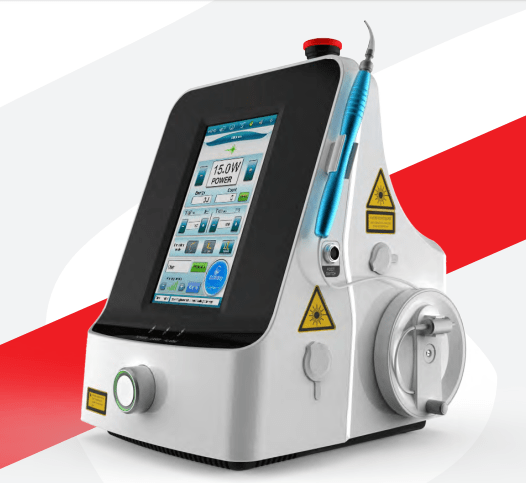 Portable Surgery Laser System Features: 
Compact design makes it small in size and light in weight, easy to transport.

The green aiming beam improves the alignment and the exact sighting during the treatment.

CO2 + KTP"-like laser unit for coagulation, vaporization, and bloodless surgery.

Both contact and non-contact mode cutting with simultaneous coagulation.

Fiber guide laser compatible with various endoscopic use.
      Specifications of the Portable Surgery Laser System:
Model
810 nm Portable Surgery Laser System FDA SIFLASER-1.2A
Wavelength
810nm
Maximum Power
15W
Operation Mode
CW, Single Or Repeat Pulse
Pulse Duration
25μs-10s
Repetition Rate
0.05Hz-20KHz
Transmission System
Fibres Of 400um And 600um With SMA905 Connector
Pilot Beam
Red Diode Laser Of 635nm, Power<5mW
Control Mode
True Color Touch Screen
Voltage/Current Rating
110/220 VAC, 5A, 50/60 Hz
Dimensions
215(W)*245(L)*315(H) mm
Weight
4Kg
Safety Compliance
CE0197
Specifications subject to change without notice.
     Application of Surgery laser system FDA SIFLASER-1.2A:

   SURGERY / GYNECOLOGY:
ENT
Treatment of early Laryngeal Carcinoma.

Dysplasia Removals.

Endoscopy / Micro endoscopy.

Fibroma and Granuloma Resection.

Glottic Carcinoma Resection.

Haemangioma and Ectasia Coagulation.

Haemangioma.

Congenital Larynx Stenosis.

Larynx / Oropharynx.

Laser-assisted Uvulopalatoplasty.

Microsurgery of the Vocal Fold.

Neoplastic Stenosis.

Otology.

Papillomatosis.

Partial Glossectomy.

Polypectomy in the Vocal Cord area.

Reinke-Oedema.

Rhinology.

Vocal Cord Nodules.

Telangiectasia.

Tonsillotomy.

Tracheal Stenosis.

Tumour Excision.

Vascular Lesions.

Zenker's Diverticulum.

Cysts, Mucoceles.

Cyst Removal.

Liposuction.
Vestibuloplasty
   VETERINARY MEDICINE
Class IV therapeutic laser for Veterinary Use:
If the laser ray is not employed precisely but rather defocused, it can also be used for laser irradiation. This has the benefit of significantly reducing irradiation times and necessitating repeat treatments only after noticeably greater time intervals. This medication contains anti-inflammatory, analgesic, and cure-promoting properties and may thus be utilized to treat wound healing as well as locomotory disorders (acute and chronic joint inflammations, musculature inflammations, sinew inflammations or tenosynovitis).
Benefits of laser therapy
Anti-Inflammation. Anti-Pain (Analgesic)
Accelerated Tissue Repair And Cell Growth
Improved Vascular Activity and Metabolic Activity
Reduced Fibrous Tissue Formation
Improved Nerve FunctionImmunoregulation
Faster Wound Healing

Surgery laser system SIFLASER-1.2A Blue compared to surgical devices that use infrared wavelengths, uses ultra-blue light, thus ensuring high-level performance, thanks to the reduction of thermal damage and to its peculiar interaction with haemoglobin. Thanks to these features, it guarantees increased cutting effectiveness, much higher than the one obtained with infrared lasers, and the complete absence of water absorption helps drastically reduce the overheating of the surrounding tissues.
Surgery laser system SIFLASER-1.2A blue laser guarantees ideal visibility of the operative area thanks to immediate hemostasis. The use of specific sterilizable fibres in contact surgery minimizes possible cross-infection while also ensuring a clean and bloodless operational region.

                    810 nm Portable Surgery Laser System FDA SIFLASER-1.2A Accessories: 

SIFSOF
provides optimal options, therapeutically as well as economically: sterilized bare fibres 400um and 600um with ENT handpiece set, reusable handpiece probes with disposable finder needles.
The optimal laser probes developed by SIFSOF in combination with matching guides and handpieces enable a wide range of therapeutic options in the field of ENT – therapeutically as well as economically.
Certifications:
810 nm Portable Surgery Laser System FDA SIFLASER-1.2A
12 Months Warranty
[alert style="warning"] This product is only for sale to medical staff (doctors, nurses, certified practitioners, etc.) or to private users assisted by / under supervision of a medical professional. [/alert]