Hand Stroke Therapy Portable Rehabilitation Gloves :SIFREHAB-2.0
Hand Stroke Therapy Rehabilitation Gloves
SIFREHAB-2.0
Training modes: Mirror therapy, flexion/Extention, ADL training, Single finger training…
Inside the Box: Robotic gloves ( Left or Right), Mirror glove  ( Left or Right), Console
For quantity discounts Please call +1-323 988 5889.
10 × Trees planted for one purchased item.










Hand Stroke Therapy Rehabilitation Gloves
SIFREHAB-2.0
Hand Stroke Therapy Rehabilitation Gloves SIFREHAB-2.0 is an innovative  Portable robotic gloves machine suitable for Home use. SIFREHAB-2.0 is designed to assist patients with hand dysfunction caused by stroke, cerebral hemorrhage, stroke hemiplegia, and brain injury… 
This Model comes with one Robotic glove ( left or right hand ) + One Mirror glove (for the healthy hand) + Console
SIFREHAB-2.0
combines flexible robot technology and neuroscience in order to help patients master fingers flexion and extension, reduce hand muscle tension, relieve edema and stiffness, and promote rehabilitation of brain nerve injury through exercise which improves hand activity and accelerates the rehabilitation of hand function.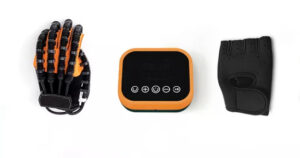 Console Size : 135x115x57mm
Product Features: Hand function rehabilitation assistance
Input :5V/2A
Battery capacity:5300mAh
Weight: Console 500g /Gloves  225g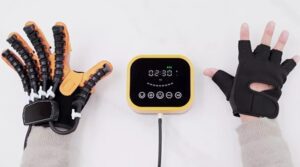 Hand Stroke Portable Rehabilitation Gloves SIFREHAB-2.0 Functions:
Passive Training Mode:
Also known as range-of-motion (or ROM exercises), passive exercises help prevent stiffness in joints, help to stretch muscles, and can increase and maintain range-of-motion of the affected hand.

Task-Oriented Mode:
Task-oriented training involves practicing real-life tasks. These hand rehabilitation activities can include everyday tasks such as dressing, self-feeding, bathing, laundry, and/or meal preparation. The SIFREHAB-2.0 will detect weak conscious hand activity and then boost it to complete the intended hand movement.

Mirror Therapy Mode:
During mirror therapy, the mirror glove is worn on the nonaffected hand, which contains the force and flex sensors, is used to measure the gripping force and bending angle of each finger joint for motion detection. The motor glove, driven by micromotors, provides the affected hand with an assisted driving force to perform training tasks.

Separate Finger Training Mode:
Studies 
have shown that single-finger training may greatly enhance the rehabilitation outcome, During the separate finger exercise, the patient can also configure the flexion and extension times independently based on muscle tension to assist with finger flexion and extension. This model comes with an INDEPENDENT AIR VALVE ROTARY SWITCH: This training can be performed for each finger individually by opening and closing the independent air valve Rotate the air valve switch to an inclination angle to close the current corresponding finger air inlet


Hand Stroke Therapy Portable Rehabilitation Gloves: SIFREHAB-2.0 Advantages: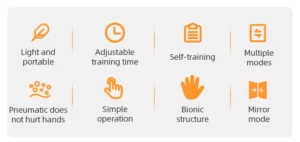 A portable compact and lightweight form with various training models to choose from : Automatic mode Mirror mode Adversarial mode

cost-effective home therapy for stroke survivors, easy to use, helps patients to exercise anytime, anywhere …
HIGH-QUALITY MOTOR-PNEUMATIC REHABILITATION: Strong power, low noise, good electrical performance, insulation, moisture-proof properties, extended service life.
One charge lasts for about 3 DAYS: The host is charged and used, and the large-capacity lithium battery can be used about 9 times per charge.
A new generation of SMART CHIPS Multi-programming integrated processing chip
Integrated touch screen: Simple and easy to operate: The function keys are designed with a touch screen, which is easy to use and the elderly can also complete the training independently

Hand Stroke Therapy Portable Rehabilitation Gloves:SIFREHAB-2.0 Applications:
Post-stroke rehabilitation
crush injuries and other hand trauma.
Tendon and/or ligament tears and other tendon injuries.
Peripheral nerve disorders and other neurological conditions.
Fractures and dislocations.
Arthritis or tendonitis.
Carpal tunnel syndrome.
Dupuytren's contracture.
SIFREHAB

–

2.0

 Size Details:

SIFREHAB-2.0 Rehabilitation Process:
The process of rehabilitation Using
SIFREHAB-2.0
enables individuals of all ages to achieve the highest level of function, and independence and restore optimal health of the hands and fingers. Within 3 months of constant training, it will limit the extent of the injury, reduce the damage, and in the long run, it will fulfill the prevention, correction and the elimination of the disability. The rehabilitation process is often quite difficult but it's 
feasible and 
its success depends on confidence, patience, scientific rehabilitation, trust, and perseverance.

Inside The Box:
1 x Robotic Glove
1 x Mirror Glove
1 x Console
1 x Charger
12-month warranty 
10 × We plant for you ten Trees 























× 10 Trees planted for one purchased item 
One Tree Planted is on a mission to reforest our planet and provide education, awareness, and engagement on the importance of trees in our ecosystem. It also has a social impact encouraging and giving incentives to low-income people to plant Trees in their Area.
Reducing carbon footprint: A mature tree absorbs an average of 48 lbs of CO2 per year.
We give you the chance to participate and be part of this noble project. We plant Trees for you for each product you purchase from SIFSOF.
Let's re-Green our Earth together ????  



 …