Hand Therapy Stroke Rehabilitation Robotic Gloves: SIFREHAB-1.01
Portable Stroke Rehabilitation Robotic Gloves: SIFREHAB-1.0
Training modes: Mirror mode, One finger alternate motion modes, Soft mode
Inside the Box: Charger, Robotic gloves ( Left or Right), Mirror Mirror hand strap ( Left or Right), Console, Training ball, USB charging cable for Mirror hand strap, Console.
For quantity discounts Please call : +1-323 988 5889.
10 × Trees planted for one purchased item.










Portable Stroke Rehabilitation Robotic Glove:
SIFREHAB-1.01
(Right + Left hand)
The Portable Stroke Robotic Rehabilitation Gloves: SIFREHAB-1.01 helps patients who are not able to attend physical therapy sessions at the hospital to do their own rehabilitative training safely and independently. As such, they can achieve full recovery from stroke.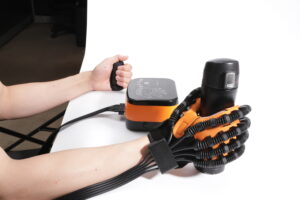 Portable Stroke Robotic Rehabilitation Gloves: SIFREHAB-1.01 Advantages:
Our rehabilitation robot gloves train 5 fingers in turn
They no need to rotate the valve on the glove;
It has 3 training modes;
The gloves with multiple air pumps and independent air pipes, and the strength is 3 times stronger than others;
The battery of the device has a larger capacity and longer life;
The designated fingers can be trained individually.

The robotic gloves are a cost-effective home therapy for stroke survivors, easy to use, and help patients to exercise anytime, anywhere.

Hand rehabilitation helps patients to rebuild their hand functions through exercise and then again their ability to take care of themselves in daily life. So, it promotes full-hand recovery. 

The robot gloves promote the simultaneous movement of both hands. It activates mirror neurons to replicate the normal hand nerve pathways to the affected hand. So, the robot gloves promote autonomic recovery of the brain.

Used for full recovery from Stroke Patients, Arthritis, Stroke Hemiplegia, and Cerebral Palsy Finger.
Portable Stroke Robotic Rehabilitation Gloves: SIFREHAB-1.01 Training Modes: 
During mirror therapy, the mirror glove is worn on the nonaffected hand, which contains the force and flex sensors, are used to measure the gripping force and bending angle of each finger joint for motion detection. The motor glove, driven by micromotors, provides the affected hand with an assisted driving force to perform training tasks.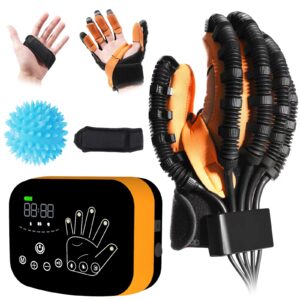 One-finger alternate motion mode:
Using advanced sensors and actuators, this mode enables precise and controlled movements of a single finger at a time. By guiding patients through a series of exercises and therapeutic gestures, the glove promotes dexterity, strength, and flexibility in the affected finger. Moreover, the glove's interactive nature provides real-time feedback and progress tracking, making it an invaluable tool for both patients and healthcare professionals. With its innovative approach to rehabilitation, the One Finger Alternate Motion mode brings newfound hope and possibilities for individuals on their journey to regaining full-hand functionality and independence.
The Soft mode of the rehabilitation glove is a groundbreaking advancement in the field of physical therapy and rehabilitation. This innovative glove is designed to provide gentle and controlled assistance to individuals recovering from hand injuries, strokes, or other neurological conditions affecting hand mobility. The Soft mode utilizes state-of-the-art soft robotics technology, incorporating soft, flexible materials and actuators that mimic the natural movements of the hand. With its intelligent sensors and adaptive algorithms, the glove can sense the user's intentions and offer personalized support during various therapeutic exercises. The Soft mode of the rehabilitation glove holds great promise in enhancing the recovery process, promoting muscle reactivation, and improving overall hand dexterity for patients on their journey to regaining functional independence.
Portable Stroke Robotic Rehabilitation Gloves:SIFREHAB-1.01 Applications:
The robot gloves crush injuries and other hand trauma.
Tendon and/or ligament tears and other tendon injuries.
Peripheral nerve disorders and other neurological conditions.
Fractures and dislocations.
Arthritis or tendonitis.
Carpal tunnel syndrome.
Dupuytren's contracture.
Post-stroke rehabilitation..etc.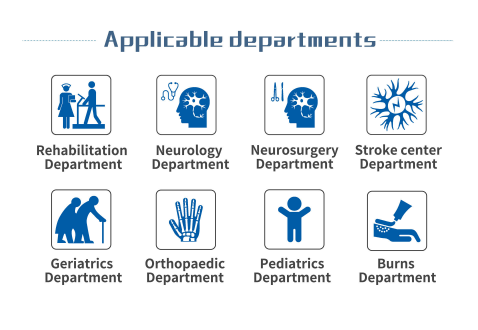 SIFREHAB

–

1.01

 Size Details: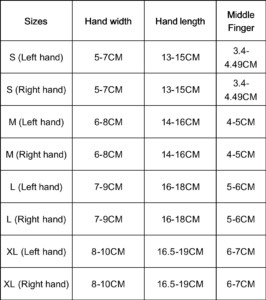 Inside The Box:
1  x Robotic Glove
1  x Mirror hand strap
1  x Training ball
1  x USB charging cable for Mirror hand strap
1  x Console
1  x Charger
12-month warranty 












× 10 Trees planted for one purchased item 
One Tree Planted is on a mission to reforest our planet and provide education, awareness, and engagement on the importance of trees in our ecosystem. It also has a social impact encouraging and giving incentives to low-income people to plant Trees in their Area.
Reducing carbon footprint: A mature tree absorbs an average of 48 lbs of CO2 per year.
We give you the chance to participate and be part of this noble project. We plant Trees for you for each product you purchase from SIFSOF.
Let's re-Green our Earth together ????  



 …