Temperature Checker and Touch-Free Hand Sanitizer Kiosk: SIFROBOT-7.73
Temperature Checker and Touch-Free Hand Sanitizer Kiosk: SIFROBOT-7.73
Camera: 200W pixel.
Operation system: Android 5.1
Temperature measurement units: Fahrenheit / Celsius
Type: Non-contact.
hand sanitizer
LCD Dispaly.
Fast Reading.
Measuring distance: Within 1 meter.
Charging:  No battery (DC 110V-240V  / AC 110V-240V)
Package weight: 58kg
Wooden case dimensions: 1850*600*500mm
Carton box dimensions :1700*500*440mm
For quantity discounts Please call: +1-323 988 5889.
Temperature Checker and Touch-Free Hand Sanitizer Kiosk:

SIFROBOT-7.73

Advantages of the Temperature Checker and Hand Sanitizer Dispenser: SIFROBOT-7.73
Adopts high-performance intelligent processor, face recognition algorithm based on deep learning, greatly improve the rate of face capture
Supports real-time temperature detection and high temperature alarm
Supports face optimization, face enhancement and face exposure to improve imaging quality
Supports live anti-counterfeiting, based on facial biometric recognition. It cannot be replaced and copied to prevent counterfeiting operations.
Features of the Temperature Checker and Hand Sanitizer: SIFROBOT-7.73
The integrated design is adopted to ensure the safety and reliability of the equipment in terms of the accuracy of identity verification.
The robot supports card identification and stranger warning function.
The face recognition all-in-one robot supports personalized customization.
It supports cloud and local identification.
Supports recognition distance adjustment
Equipped with offline and online 10,000 face database to support massive historical record storage.
Non-contact identification is completely different from fingerprint methods, hands-free, and does not require special cooperation to have a strong sense of experience.
HD color screen and high resolution.
Supports USB disk download and self-service report
Specifications of the SIFROBOT-7.73: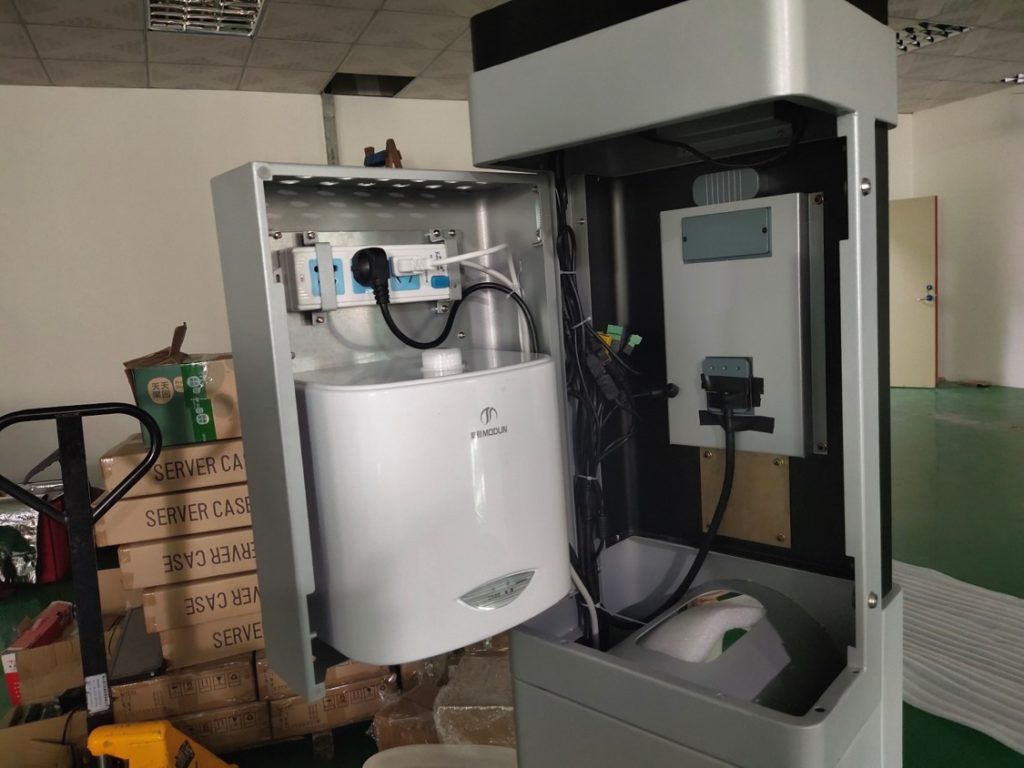 Certifications:
CE
Inside The box: 
Temperature Checker and Touch-Free Hand Sanitizer Kiosk: SIFROBOT-7.73
User Manual
Charging dock
12-Month Warranty










10 × We plant for you ten Trees 










  × 10 Trees planted for one purchased item
One Tree Planted is on a mission to reforest our planet and provide education, awareness and engagement on the importance of trees in our ecosystem. It also has a social impact encouraging and giving incentive to low income people to plant Trees in their Area.
Reducing carbon footprint : A mature tree absorbs an average of 48 lbs of CO2 per year.
We give you the chance to participate and be part of this noble project. We plant Trees for you for each product you purchase from SIFSOF.
Let's re-Green our Earth together ????  



SIFSOF