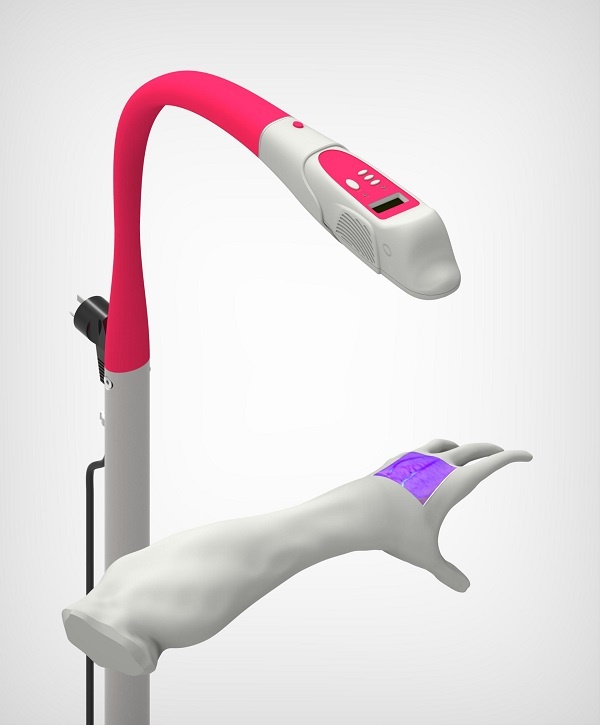 Vein Finder Trolley Type SIFVEIN-6.11
November 1, 2019

Vein Viewer Trolley Type SIFVEINSET-1.0
November 1, 2019
Vein Finder Stand Type SIFVEINSET-1.1
Light type : Infrared.
Depth : Up to 10mm.
Best Projection Distance : 200~250mm.
Main Wavelength Of Light Source : 750nm~940nm.
Product Category : Vein Visualization on Peripheral IV Procedures.
Certifications : FDA, CE.
For quantity discounts Please call: +1-323 988 5889.
Description
Vein Finder Stand Type SIFVEINSET-1.1
Main Unit SIFVEIN-5.2 + Fixed Stand SIFSTAND-2.0
Vein Finder Stand Type SIFVEINSET-1.1 consists of The fixed desk support SIFSTAND-2.0 to suit SIFVEIN-5.2 Vein Finder Imaging System.The fixed support is easily securable and allows for superficial venous blood vessels of patients to be rapidly evaluated and searched.
Consequently, this ensures medical staff can perform punctures during surgery and other medical procedures accurately and effectively.
Infrared Vein Viewer acquires image of subcutaneous veins, the image which results from dealing with image signal is projected onto the surface of the skin. Thus, subcutaneous vein image will be displayed on the skin surface of the corresponding position.
The Vein Viewer is a medical observation tool, mainly composed of a main board, a display screen, a camera, a stand and a LED light source. Taking advantage of different absorption of near-infrared light with different wavelength by oxyhemoglobin in surrounding tissues and vessels, after photoelectric conversion and image processing, the information is finally turned to be clear display of veins on the screen.
Therefore, it is used to find veins at ease, observe search for subcutaneous superficial blood vessels and for assisted puncture, such as assisted venous diagnosis and intravenous injection.
Furthermore, it detects subcutaneous superficial vein by infrared light of research of development patent technology, displaying situ image on the surface of the skin in order to help medical staff to check vascular's orientation and distribution.
      Features of the main unit SIFVEIN-5.2:
The Vein Finder SIFVEIN-5.21 uses a new type of optical structure design. That can realize the original position projection and improve the vein recognition rate.
Fully digital image acquisition and display mode.
Color adjustment: Red/ Green/ White Color Switch Mode.
Brightness Adjustment Feature.
Black and White reverse: Uses black and white inversion to adjust the switching between vein display and background color.
Depth identification: Provides More Specific Vein Location.
Child mode Function.
      Clinical Application:
Injecting Section – Helps intern nurses to complete injections. To solve the problem of injection difficulty for people of obesity, with small blood vessels or too dark skin, etc. whose veins are hard to find.
Cosmetology – For basic facial injections of hyaluronic acid, water light, botulinum toxin, collagen, etc. Avoid the serious consequences of injection errors.
Cardiology – Precise positioning for dissection of veins that is needed during bypass surgery.
Dialysis – Monitors the patient's real-time blood flow during hemodialysis.
Peripheral angiography – lighting peripheral vessels of the patient and helping the doctor diagnose the condition.
And more departments that need to observe veins for diagnosis or experiments, in addition to universities, nursing colleges, laboratories, and so on. You can use a vein visualization device to help observe veins for assisted support.
      Technical Parameters:
   Technical Index:
Imaging method: DLP in-situ projection, no laser.
Maximum projection depth: ≤ 8mm.
Infrared wavelength: 850NM.
Rated power: 25VA.
Stand-by time: ≥180min.
Charging time: 3H(Off state).
Image Resolution: 824*480.
Contrapuntal precision: ≤ 0.2mm.
Projection brightness: 1W20Lumens (adjustable).
Optimal imaging distance: 20cm-25cm.
Host weight: 0.5KG.
Length: 220mm.
Frame frequency: > 30 frame/s.
Projection color: white/green/ red light can be switched.
Working mode: color adjustment, brightness adjustment, black and white reverse, pause, depth recognition, children mode..
Processor: Intel ®Atom.
Operating environment: WIN8.1 operating system.
Bracket: table model / cart model (optional).
   Software and hardware features:
Adopt a new type of optical structure design. Realize the in-situ projection and improve the vein recognition rate.
Multiple image enhancement algorithm. To make the veins otherwise difficult to distinguish clearly visible.
Depth recognition: The depth of the vein can be distinguished and hinted by the recognition of the gray scale.
Through the image acquisition, processing, transmission to achieve full digital and improve the drive circuit of the optical machine. Use high-performance computers. It can effectively improve the image quality and increase the frame frequency.
By using an innovative synchronous rectification power management circuit to Improve power conversion efficiency and reduce radiation and ripple.
Through the structural design of the centralized management and centralized heat dissipation of the heating device. Makes the whole machine dissipation better solved. Which ensures the stability of the machine for long time operation.
     Application Cases:
   A. Subcutaneous hemorrhage and vessel sealing:

   B. Venous sinus and varicosity:
    C. Newborn and coronary heart disease: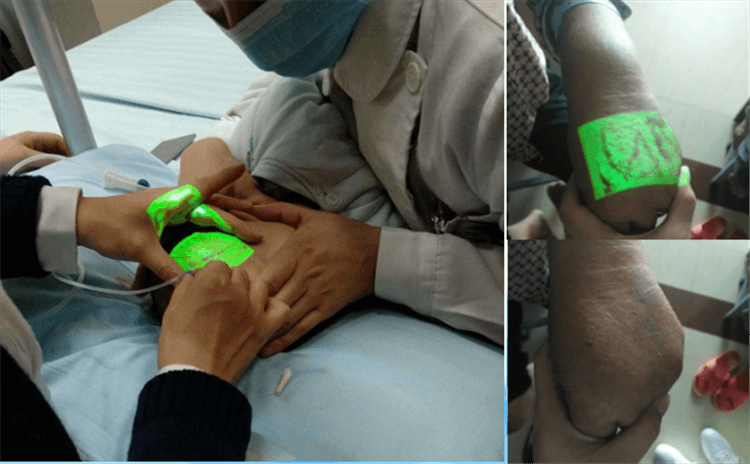 D. Blood sampling and injection beauty needle: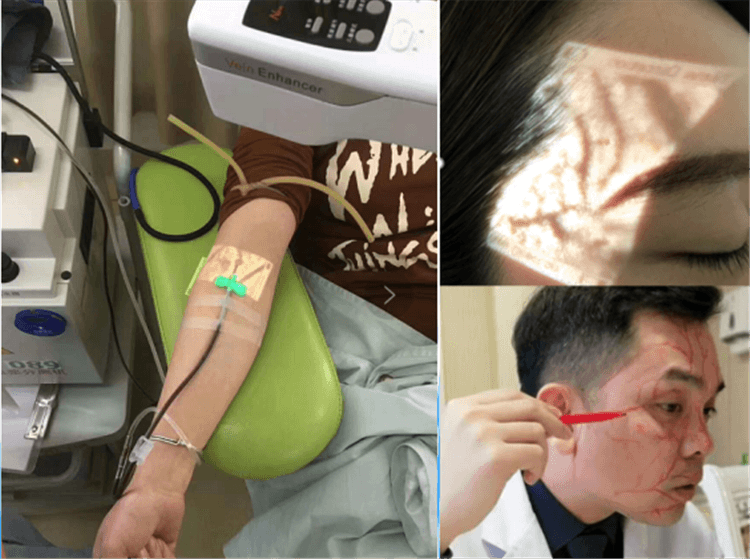 E. Phlebotomy:
Phlebotomists collect blood samples and units for laboratory tests, transfusions, donations, or research. Human health depends, to a large degree, on the precision and professionalism of Phlebotomists. Physicians diagnose major medical conditions based upon blood samples. Including many kinds of cancer, diabetes, thyroid disease, allergies, and pregnancy. In addition, donated blood and platelets collected at blood centers account for thousands of lives saved every year in California. It is the Phlebotomist who must safely collect blood samples. Identify them accurately and preserve them properly until needed for testing or transfusion.
   There are three ways to collect blood using the vein finder SIFVEIN -5.2:
Venipuncture (VP) is the most common means of collecting a blood specimen. It involves placing a needle in a vein. Typically at the bend of the arm or back of the hand.
Further, Skin punctures involve piercing skin tissue. That will bleed to collect a small amount of blood for minimal testing. An example; of a skin puncture would be a finger prick.
Furthermore, arterial blood gas puncture (commonly referred to as an ABG) involves drawing blood from an artery. Typically in the wrist. This kind of draw is rare and as a rule done on patients who have a respiratory condition.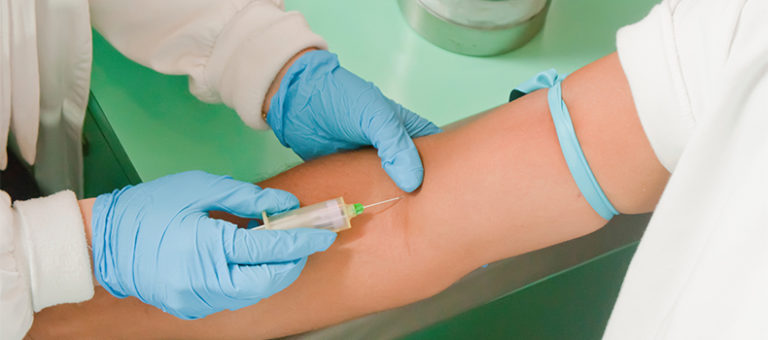 Multi-function and effect display:
   A.Color adjustable:
Red, green, and white colors can be switched at will. The image is more realistic and the clinical accuracy is more higher.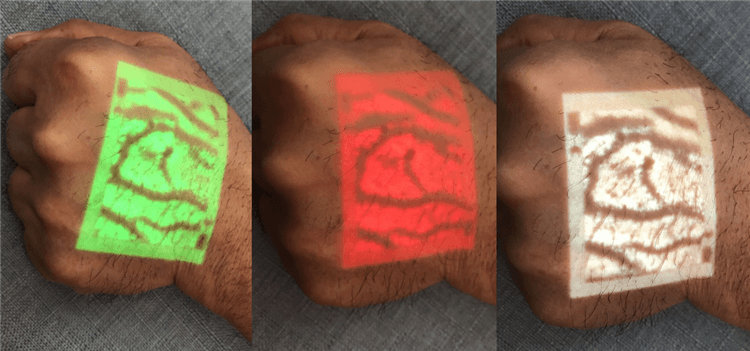 B. Black and white reverse:
Switch the current vein and background color. In order, to make a clear contrast and enhance the vein positioning judgment.
   C. Brightness adjust
Change the brightness of the projected image. To reduce the environmental factors.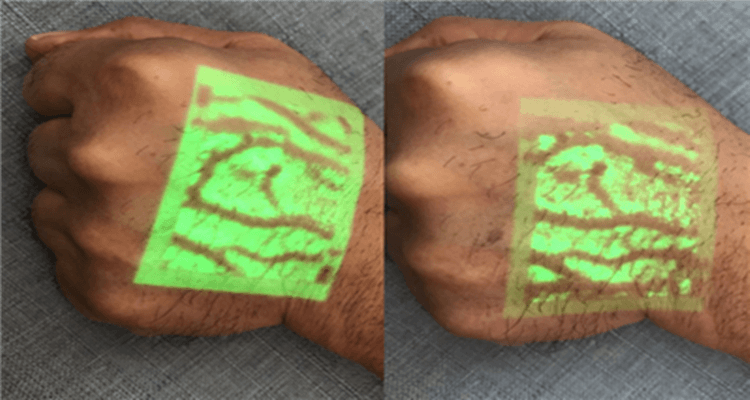 D. Depth recognition:
From deep to shallow. 1-3 signal were lit up which improve the judgment of the depth of veins.

   E. Children mode:
The vein finder SIFVEIN-5.21 children mode is for infants and children. Which can reduce large-area projection interference and improve the success rate of puncture.
Specifications Of The Probe: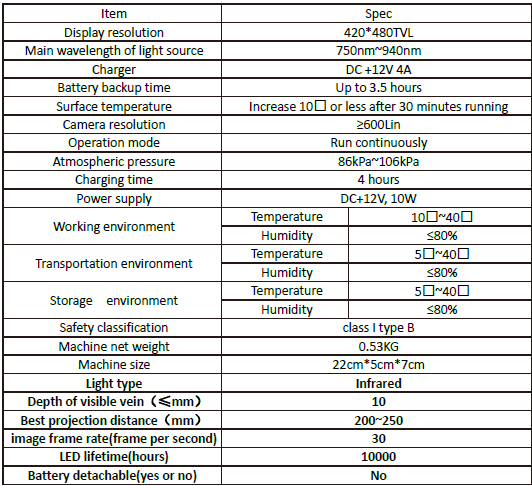 Specifications Of The Stand SIFSTAND-2.0: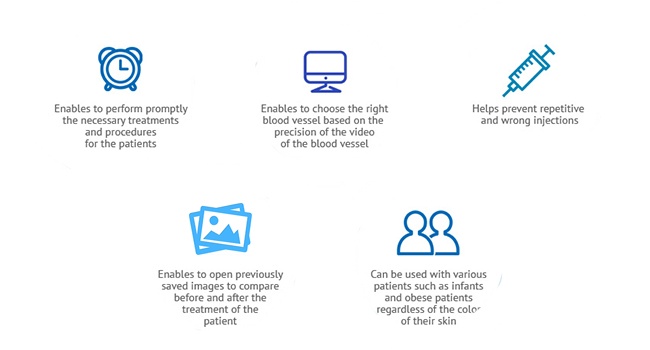 Certifications:
FDA 
CE.

Vein Finder Stand Type SIFVEINSET-1.1 (Main Unit SIFVEIN-5.2 + Fixed Stand SIFSTAND-2.0)
12 months warranty.